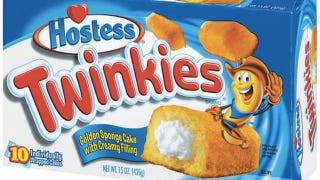 Start stockpiling your cream and preservative filled snack cakes: Hostess is filing for Chapter 11 bankruptcy. Again.
According to the Wall Street Journal, the Texas-based company that makes Wonder Bread, Ho-Ho's, Ding Dongs, Mini Muffins, Sno Balls, and several other treats that could easily double as slang middle schoolers use to sexually harass each other has filed for Chapter 11 bankruptcy once before, back in 2004. This time around, their fiscal travails centered around the high cost of baking supplies and contracts with unions. Plus, people just aren't all that interested in buying white bread anymore.
Representatives from the company are planning to attempt to negotiate with members of the Teamsters Union and the Bakery, Confectionery, Tobacco Workers and Grain Millers International Union. When a company enters bankruptcy protection, they're legally allowed to change the terms of employment contracts.
Maybe confronting unions and lamenting Americans' changing palates isn't the best way to go about fixing Hostess. The company's got a strong brand and lots of appeal. For example, once, I saw a squirrel climbing a garbage can with an entire Sno Ball in its mouth. A Hostess Cupcake is pretty much the number one item on rat Christmas lists every year. It's really too bad that the company can't figure out a way to monetize how much urban vermin love Hostess products. They'd be out of the woods in no time.