With a blonde protagonist in a hated profession in a despised industry, the Internet, and the motivation of jealousy, it's no wonder the Ali Wise scandal — for which the ex-publicist is now facing felony charges — has commanded attention.
Wise probably deserves no moral consideration for hacking into other women's voicemails because some of them had the temerity to get themselves involved with men Wise herself had dated. (In one case, not until two years after Wise's relationship with the man in question had ended.) Even if it was not illegal — and Wise is defending the charges — it was wrong, and she must have known it at the time. An unlovable woman with a nasty habit of violating other women's privacy: this is textbook Internet-enabled girl-on-girl crime, with the salacious hell-hath-no-fury element thrown in as extra tabloid bait. No wonder "sources" are now calling her "radioactive in the industry."
A former Dolce & Gabbana publicist, Wise was arrested this summer for allegedly hacking into the voicemail of Munich-born Nina Freudenberger, an interior designer whose clientele includes many of Manhattan's elite. Freudenberger became involved with Josh Deutsch, the founder of Downtown Records, who had once been Wise's boyfriend. The criminal complaint details 337 individual calls Wise made, via an online number-masking service called SpoofCard, into Freudenberger's voicemail.
This was not isolated behavior. When the District Attorney added three new victims to the case yesterday, he alleged that Wise accessed a second victim's voicemail 137 times. And to have targeted a third victim 119 times. And a fourth one at least 102 times. Wise is said to have also harassed coworkers and friends; anonymous sources have whispered to Page Six about restraining orders Wise was subject to, about anonymous online comments and threatening e-mails. She targeted not just Deutsch's exes, but also women involved with Jason Pomeranc, a hotelier Wise had a long, on-again, off-again relationship with.
All told, Police say she used the SpoofCard service over 1,000 times to listen to the private communications of women who were, in some cases, complete strangers.
G/O Media may get a commission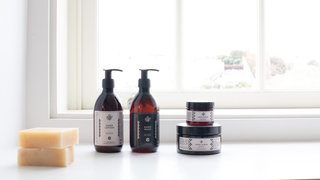 Exfoliate and Hydrate
The Handmade Soap Company
How many times have I looked at the Facebook pages of women a boyfriend has cheated on me with? One thousand times? Two thousand times? Five thousand times? Often enough to notice when one gets a new job, manages to use "it's" and "its" correctly, or deletes from her page the year of her birth. Often enough to know where they live. (At first, I only wanted to know if they were pretty. Perhaps Wise started because she just wanted to hear his voice.)
Wise certainly crossed a line in obtaining information under false pretenses — voicemail is private in a way that a profile on a social networking site is not. And it is not my intention to treat her behavior with any more generosity than it deserves — probably close to none. But what I can't get around, is an uncomfortable feeling of identification with her motivations, with her feelings. I can't help but think there's a certain basic understanding of the world and of relationships that she and I share. I suspect Ali Wise has found herself, as I have, unable to sleep at a quarter to four in the morning because a person she has never met has committed some minute act that has nonetheless created a digital trail, an act which, under the circumstances, knowing about is still somehow less painful than not knowing about. Some people have a native disinterest about these things — they hear about someone they loved very much seeing someone else and either don't feel the urge to know just a little more, or successfully repress it. Some people are seeing someone who's seeing someone else and don't even wonder about the nights he has "plans." Some people are probably smart enough not to torture themselves with Google. But I do. More often than I'm comfortable admitting.
What Wise did was wrong, but I understand it. I empathize. I've been there. And that frightens me.
Perhaps the strangest turn in this whole saga is this factoid, buried in today's Post story:
The blond society babe has at least one person still standing by her — Pomeranc, in whose SoHo apartment The Post found her yesterday.

"It's really rude for you to come up here," she said.
So, it's pretty rich for someone accused of serious, long-term stalking, hacking, and harassment to accuse a reporter of being "rude." But I was strangely touched to learn that Wise still has some kind of a relationship with Pomeranc, and I hope it's not wrong of me to wish that it gives her at least a little comfort right now. Because she's facing up to four years in prison for the kinds of acts that, while most of us would not have committed, might, if we're honest with ourselves, have at least considered. Some of us more than once.
Flack 'Hack Attack' On Love Rivals [New York Post]
P.R. Pals Hang Up On 'Spy' Ali Wise [New York Post]
Former Dolce & Gabbana Publicist To Face Charges From Four Women In Stalking Case [NYDN]