After seeing one chew on a shoelace, we were all about to rush out and get a baby snow monkey of our very own. Thankfully, didgeriwont was here to play the responsible parent:
Alright, sit down little Timmy and Tiffini...Now I know you are very excited about this right now, but remember the little cute snow monkey today will grow up into something that looks like Darth Maul sent through the dryer. And although you both promise you will walk him and play with him, we all know what happened to your Fijit Friends that I got you for Christmas. Yeah, you played with them for two days and now they are lost in some couch somewhere. I just want you both to know that owning a monkey is a lot of responsibility. ....No I meant it. Cry all you want Timmy, you aren't getting a snow monkey. That's final....Fine, maybe for your next birthday.
Submit nominations to the Comment of the Day tag page. Click on the comment's time stamp, and post the comment's URL to the forum along with the tag #cotd. (Replying to a comment with "#cotd" does not work.)
Use #trollpatrol to report comments that you feel the editors/mods should be aware of. Try not to respond to/approve/promote trollish comments in the threads — instead, just post the comment on the #trollpatrol page, the same way you'd post a comment on #groupthink or on the #cotd page, and the editors/mods will take care of it.
G/O Media may get a commission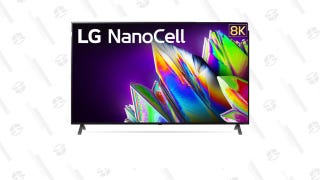 LG 75-Inch 8K TV
For meetups, use the meetup tag page!