A study found drinking coffee may reduce a woman's risk of developing depression. It also helps bloodlesscoup stay on a regular cat picture viewing schedule.
It's usually a chain reaction for me.

1) Drink the coffee.
2) Start getting shit done.
3) Reward self for getting shit done with coffee.
4) Get MORE shit done.
5) Start telling HILARIOUS stories to coworkers over coffee.
6) Have a crash at about 3 pm. Decide it's time for coffee.
7) OMG I CAN GO RUNNING TONIGHT *BOUNCE BOUNCE BOUNCE*
8) Run, releasing endorphins.
9) Look at pictures of cats on the internet after taking post-run shower.
10) Sleep.

Rinse, repeat.

Days where coffee doesn't happen:
1) Get a crippling migraine almost immediately.
2) Spend whole day staving off the migraine with ibuprofen/crying.
3) Get nothing done.
4) Eat horribly.
5) Start drinking coffee in hopes of undoing the damage.
6) Look at pictures of cats on the internet and cry because I can't have one at my apartment.
7) Be too wired to go to sleep on time.
8) Decide IT'S TIME TO WRITE THAT EMAIL TO THAT ONE GUY WHO NEEDS TO BE TOLD WHAT HE DID.
9) More cat videos.
10) Crash at like 1 am.
Submit nominations to the Comment of the Day tag page. Click on the comment's time stamp, and post the comment's URL to the forum along with the tag #cotd. (Replying to a comment with "#cotd" does not work.)
Use #trollpatrol to report comments that you feel the editors/mods should be aware of. Try not to respond to/approve/promote trollish comments in the threads — instead, just post the comment on the #trollpatrol page, the same way you'd post a comment on #groupthink or on the #cotd page, and the editors/mods will take care of it.
G/O Media may get a commission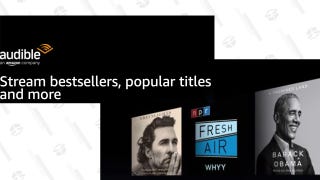 FREE
Audible Premium Plus 3-Month Free Trial
For meetups, use the meetup tag page!