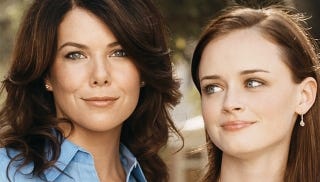 Fun news: A Gilmore Girls reunion is happening next year, and a Dawson's Creek reunion is sort of happening, eventually. #TBT in action.
Both will take place at the ATX Television Festival in June 2015, but the Dawson's Creek reunion only includes the showrunners and writers, according to Entertainment Weekly. So you're saying we won't see Andie and Jack?
Either way, I'll have this in my head till tomorrow. Say a little prayer for I.
The festival's Gilmore Girls reunion panel will feature Lauren Graham, Alexis Bledel and creator Amy Sherman Palladino, who said in a statement:
"Gilmore was the highlight of my ridiculous life. I can't wait to sit with these unbelievable broads and relive a time where sleep did not exist, where stress and coffee were mama's little helpers, and where we all dove into the deep end together to make something weird and very very cool."
This is all very, very cool.
Image via The WB