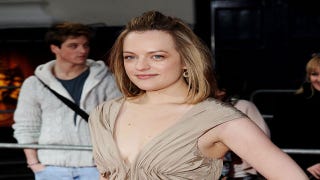 The red carpet of the 2011 Olivier Awards had the gravitas one would expect of the august British event. Not to mention, the oddness.
Here's the thing about this whole beige trend. It can be ethereally lovely but, as in the case of Elisabeth Moss, it can also make the wearer look rather wan and monochromatic.


Rachel Sterling, ready for Beaton's Ascot Gavotte.


I love a dress with pockets — but then, I like most things about Sarah Goldberg's retro-perfect turn.


Olivia Williams tones down the va-va voom of the print with a classic shape.


Johnny Lee Miller, presumably shorn for his turn in Frankenstein; Michele Hicks goes Old Hollywood.


Well. I guess there's no point in wearing a romper if, like Tamsin Greig, you can't do...this.


This is a case where we'd advise Elena Roger not to remove her cloak.


The onlookers' expressions really say it all about Jodie Prenger's getup.