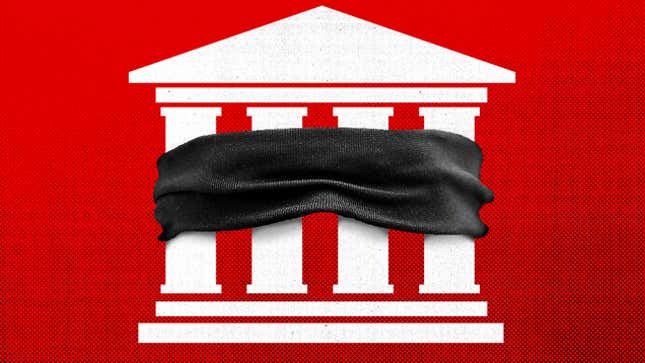 In institutions of higher learning nationwide, college administrations are silencing faculty for speaking out about the campus rape crisis. Faculty members from four colleges and universities spoke exclusively to Jezebel about the professional retaliation they've faced due to their support of survivors of sexual assault; according to their accounts, they and their colleagues have been systematically stonewalled, rebuffed, intimidated, slandered and denied tenure for their advocacy.
Oftentimes, the so-called "political" or "trouble-making" behavior they engage in is simply doing what Title IX laws require them to in order to keep their students safe. Every professor I spoke to described a remarkably similar pattern of behavior on the administration's part: when faculty object to the desultory, ineffective sexual assault and rape policies offered up by universities, they're ignored; when they persist in their criticism, they're labeled "hysterical" or "troublemakers" who are acting out of a "personal agenda," and they're put under increasing pressure to keep quiet. In some cases that pressure is insidious. In others, it's bafflingly blatant: for instance, I spoke to two women who were denied tenure after helping students report sexual harassment (which, again, is their legal responsibility under Title IX).
The crux of the issue here is that colleges see the campus rape crisis primarily as an image problem. They put their illustrious reputations before their students' safety, and, in doing so, they actively harm survivors. Because 1 in 5 women will be raped in college, a spotless sexual assault record simply isn't possible. When college administrations strive to make it seem as though sexual assault and harassment are wildly uncommon, what they're really doing is demanding that sexual assault survivors stay quiet about their experiences. Plainly put, low reporting numbers don't reflect a dearth of sexual violence. They're indicative of the fact that survivors are afraid of coming forward. But many college administrations seem not to care about this distinction.
When schools value their good names over the safety of their students, anyone who opens her mouth to argue on survivors' behalf automatically stands in opposition to the administration's best interests. Under this logic, anyone who advocates for sexual assault policy reform — anyone who points out out that the extant policies are deeply inadequate — is automatically part of the problem. And faculty activists, who can remain at an institution for decades once they're tenured, are particularly troubling to administrators.
"Faculty have more power in the institution, and we're here for 30 years, so it's not surprising to me that [administrations have] really hit faculty hard in ways that aren't being talked about yet," says Caroline Heldman, an Occidental professor who has been advocating for sexual assault reform for years. "Institutions have been retaliating against faculty in career-ending ways."
She adds, "There are many, many faculty across the nation. We've been starting to talk: we've been denied promotions, denied tenure; there are adjuncts who've been fired because of their work — even minor work — advocating for students."
The message that colleges and universities are sending is clear: if you're not with us, then you're against us. Even if you're standing with our students.
"This is a delicate time for you"
Kimberly Theidon, a soon-to-be-former professor at Harvard, claims that she was abruptly denied tenure because of she advocated for sexual assault and harassment survivors, some of whom were openly critical of the administration.
According to a complaint she filed against the school in March 2014, she was given no indication that she'd be denied tenure until it occurred. In fact, there were several signs of good faith from the university — in 2008, she was promoted to associate professor and then "assigned an endowed designation of John J. Loeb Associate Professor of the Social Sciences, which a confidential document shared with HuffPost stated was a position for the 'most distinguished tenure-track [Harvard] faculty.'" Most tellingly, Theidon states that she was invited in the spring of 2013 to "sit and lay out [her] new tenured faculty offices."
Two months later, she was denied tenure.
In a phone interview, Theidon mentions two specific incidents she believes Harvard retaliated against her for. Both are astoundingly minor. The first involves a March 2013 Harvard Crimson article written by sexual assault survivors who felt they had been failed by the institution. After the piece went up, the comments section was swamped by men's rights activist trolls attacking the authors and spewing out all sorts of rape apologia. Using her own name, Theidon responded to the trolls. "One of my students said, 'Kimberly, I feel triply violated,'" Theidon says. "First they get raped, then they have to deal with Harvard which grinds them down with callous indifference, and now they're being vilified in the press. And so I don't even think twice and say, 'Oh I'll go start commenting.' ... It never occurred to me that there would be a problem with this."
In the second incident, one of Theidon's students came to her in tears, asking for advice about a professor's ongoing sexual harassment of her. "She had reached out to other people asking for help, and everyone had told her 'Oh just be quiet; oh, he's just like that; oh, he'll write you nice letters,'" Theidon says. So she advised the the student report the harassment to administrators. A few weeks later, in an email, the student warned her that both the director of her program and her department chair told her not to talk discuss the issue Theidon further because doing so could "derail her tenure." A few days later, the chairman of Theidon's tenure committee called her into her office and confirmed this. According to Theidon, "She said, 'You can tell no one about this. You must not say one word about this. This is a delicate time for you. You can't be talking.'"
On May 28, 2013, Theidon learned that Harvard had denied her tenure and would terminate her employment on June 30, 2014. Senior Vice Provost for Diversity Judith Singer allegedly informed her that the committee reviewing her tenure discussed her "political activity" and concluded it was "the sort of [activity] scholars postpone until they have tenure." Theidon believes that this line of thinking, the idea that political activity should be postponed until tenure, encourages faculty complicity in tolerating and perpetuating a hostile sexual environment. "People are told over and over, 'Oh, wait 'til you have tenure. Head down, back bowed, and you just be quiet for six years, seven years, eight years,'" she says. "Well, then people get tenure, and I think people are so complicit for so long that they're quiet then too."
Moreover, Theidon doesn't see what she did as particularly political. "I was not manning the barricades," she tells me. "I was just doing what seemed the right thing."
Of course, this sort of behavior on administrations' part is far from new, nor is it contained to specific campuses. Over email, Simona Sharoni, a professor who used to work at American University, told me that she was denied tenure under nearly identical circumstances 20 years ago. Some of her students came to her and told her that they'd been harassed by a popular faculty member. "The students were scared to report the abuse but felt they could no longer keep the secret. I felt a responsibility to report," she wrote. "I was appalled when I realized that many administrators and fellow colleagues in the program knew about the abuse and chose to look the other way."
The next day, her program director called her and said that he was "happy that [she] was around to work with the faculty member." When she told him that they were breaking the law by not taking the report seriously, he grew angry with her. Eventually, although she was told not to, she filed an informal complaint. When she was first hired as a visiting assistant professor, she was told that there would be a tenure track position opening. It did within days of her filing the complaint. She applied, and — though she was the "insider candidate" and had both "stellar students' evaluations and a published book (not common for a junior faculty member)" — the position eventually went unfilled. The next year, the same position opened; again, it went unfilled. "I know from former colleagues that I was the front-runner for that position as well," wrote Sharoni. "On the third year when they announced the search I chose not to apply. It was too agonizing and I was frustrated."
"Regardless of the lip service universities pay to academic freedom, there is a bias on college campuses against faculty who take a stance on any issue, let alone if the issue involves direct criticism on the administration," she added.
"They're actively dedicating time and resources to shooting messengers"
In the past few years, Occidental College has come under a lot of fire for its sexual assault policy — in April of 2013, a group of students, faculty and alumni filed a federal lawsuit against the college for permitting "a hostile environment for sexual assault victims and their advocates" to persist on campus. In May, after hiring attorneys Gina Smith and Leslie Gomez from law firm Pepper Hamilton to conduct an independent review of the school's sexual assault policies, the administration made a big show of taking action to address the issue. However, student and faculty activists took umbrage with the proposed changes, criticizing them as wholly ineffective and merely cosmetic — more focused with repairing the school's damaged reputation than with actually helping students and keeping them safe.
In March of 2014, reports surfaced showing that the faculty members who were openly critical of the administration were subject to blatant retaliation, including office break-ins, laptop seizures, phone taps and the monitoring of work emails. It also seems that administration are trying to minimize the extent of the sexual assault problem: in a recording of a recent faculty meeting obtained by Jezebel, Occidental President Jonathan Veitch publicly denied the university had an abysmal record at handling sexual violence cases — which, considering the fact that the administration paid an undisclosed settlement sum to 10 current and former students in 2013, is a pretty laughable claim.
"They're in now denial, and they've gone after faculty in an attempt to discredit them," says Caroline Heldman. "It's not just that they're not making real changes: it's that they're spending all their time, energy and effort going after the faculty and survivors who brought it up. It's beyond inactivity. They're actively dedicating time and resources to shooting messengers."
In March, Occidental faculty who believe the school retaliated against them for their sexual assault advocacy filed a confidential Title IX complaint with the Department of Education. Documents obtained by Jessica Testa at Buzzfeed reveal allegations that Occidental administration actively and aggressively attempted to silence critics in the faculty and staff:
[C]urrent and former Occidental students, faculty, and staff allege that they were verbally reprimanded or even lost jobs at the college after speaking up about the school's sexual misconduct policies or supporting those who did.

The complaint alleges that the school downsized the responsibilities of the director of the school's sexual assault prevention and education program after he showed support to those critical of the administration. A staff member wrote that he believed his job was terminated while on medical leave because he criticized the administration for how it reported sexual assaults.
According to Heldman, those whom the administration cannot fire or scold into silence are branded as "difficult to work with" or "trouble-makers." The reputational hit isn't minor: "They can just run smear campaigns," says Heldman of her experience with the administration. "It's the reputational assassination that takes place behind the scenes if you're involved in this — [the idea] that you're just a hysterical woman — and I find that to be just as damaging as the office break-ins, or perhaps more so in terms of reputation."
This seems to have been the impetus behind a campus-wide email that Occidental President Jonathan Veitch sent out last year, in which he decried the faculty who vocally supported rape victims and called for effective policy reform as "a number of well-intentioned people who vilify dedicated, hard-working members of Student Affairs; question the sincerity of our response; and actively [seek] to embarrass the College on the evening news."
"If we don't play nice, if we don't just accept the bullshit that is coming out of the mouths of administrators… then somehow we are the problem," says Heldman. "Because get angry about the continuing lies and defensiveness and inability to actually bring about real change." She tells me that President Veitch dismisses faculty activism by referring to her and her colleagues who want to improve the school's sexual assault policy as "mean girls" and "whiny women" to other Occidental staff. To wit: when Heldman spoke up at a faculty meeting in March, some of her colleagues whom she describes as "the President's dear friends" sent a letter to all of Occidental's faculty decrying her arguments as "personal animosities, anger and accusation."
"They literally are saying, 'No, you can't be angry about this,'" says Heldman. And then they're not listening.
"We cannot wait until a Penn State-type incident occurs before we take these issues seriously."
Earlier this month, three University of Oregon students — all basketball players — were accused of gang raping a female student in multiple locations; according to the police report she filed on May 13 (warning: graphic content), she was far too drunk to consent and repeatedly said no as all three men took turns forcibly penetrating her.
UO acknowledges that it first received a report of the alleged assault on March 9; on March 12, the three men were allowed to play in the NCAA tournament. On March 13, UO Vice President for Student Affairs Robin Holmes sent a memo to the university senate president noting that the university's sexual assault conduct policies were "out of step with federal laws." And the UO community didn't learn of the assault until May, when police released the report to the Oregonian, even though one of the alleged assailants had a history of sexual assault at his former university. This prompted student protests and a Clery Act complaint.
Perhaps the most infuriating aspect of this completely, grotesquely mishandled case is the fact that UO faculty had been speaking out about the "woeful state" of the administration's sexual assault response for years, and for years they'd been rebuffed, silenced and ignored.
"This case brought a lot of media attention, but we've been sitting in meetings with administrators for two years now saying the sexual assault and harassment policies are a problem," says Carol Stabile, a University of Oregon professor. "I wrote a letter to the president in December 2012 clearly laying out my concerns and saying that I was very worried that bad things were going to continue to happen to women on my campus." According to Stabile, she and her colleagues were "rebuffed at every step." She adds, "We were told constantly that everything was fine, we were just kind of whiny faculty members."
Cheyney Ryan, another UO professor, had a similar experience. In September of 2012, he sent a letter to administrators cautioning them about UO's failure to comply with federal sex discrimination laws. Among his worries: students were "almost completely unaware of what constitutes sexual harassment and of what to do about it if they are harassed"; there was absolutely no training for faculty on how to identify and report sexual harassment; the administration was utterly indifferent and unresponsive to concerns about their deficient policy. "We cannot wait until a Penn State-type incident occurs before we take these issues seriously," Ryan concluded.
After that, no serious effort was made to reform the policy until 3 days after the alleged March 2014 gang rape.
"It's like gaslighting," Ryan says. "They make you feel like you're crazy: 'What's wrong with you that you think there's an issue here?'" This gaslighting effect, of course, has a serious negative impact on professor's professional credibility. "When I first started talking to people about sexual assault and sexual harassment problems, they would say things about Cheyney like, 'Oh, well, he's just a difficult personality. It's not like there's a problem here, he's just got an axe to grind.'" says Stabile. "That's one of the ways universities retaliate."
"Retaliation can be really subtle," adds Stabile. "The thing that they do is that they try to make it as uncomfortable for sexual assault faculty activists so that if you can, you leave. Or else you just shut up." UO administrators have publicly castigated faculty for speaking out — at a recent university senate meeting, for instance, UO President Michael Gottfredson described the recent sexual assault activism as "very, very inappropriate," according to Stabile. Sometimes, vocal faculty members will be moved out of their departments. But often they're just intimidated into silence: "Someone said to me the other day... because I'd complained about the silence among feminists — they said, 'Look, there are people who've tried to do this for years, they've gotten beaten up, and they just don't want to open their mouths any more,'" says Stabile.
Like Theidon, Stabile doesn't see herself as having a political agenda. "When I came here, I really wanted things to be okay. I didn't want to look for these problems... but, you know, the cases come to you, and if you're ethical and care about your students, you just can't turn your back on them, and you can't close your eyes."
The Cost of Silence
"I look at my entire career, entire education, and I just see the body count," says Stabile. "I see the faculty members who quit 10 years into the job. I see the women who didn't finish... and it's not even that they just leave the university and don't finish their education. It's students who wind up killing themselves. It's students who don't survive."
This is the price of valuing a college's reputation over the well-being of the people who actually work and live there — failing rape survivors becomes an unspoken part of university policy. The collateral damage of this is simply unconscionable: denied proper accommodations, denied the right to not have to live on a campus with their rapists, survivors suffer academically and struggle with mental health issues. Some drop out. Some attempt suicide. It's not an overstatement in any way to say that ignoring the campus rape epidemic literally ruins lives. And colleges expect their faculty members to silently accept this — to passively let it happen — if they want to keep their jobs and their professional reputations intact.
However, there is hope for reform — college and university faculty members across the country have banded together to create a new organization, Faculty Against Rape (FAR), which hopes to help faculty respond to campus rape and institutional betrayal. According to Caroline Heldman, who is helping to launch the organization, FAR's three main focuses will be developing resources for faculty to better serve survivors, helping faculty who want to be part of the anti-rape movement organize on campus, and providing strategy and legal resources for faculty who are retaliated against by administrations.
Although many faculty have been advocating against sexual assault for years, the increased media attention on the issue now may help them affect meaningful change. "This conversation is happening nationally," says Stabile. "'I've never seen this conversation before. It's a moment where we can move to change things. When I can't sleep at night or I wake up in the morning thinking about the students I've lost, I try to think about that, too."
Theidon agrees with this sentiment. "I think ten years from now, twenty years from now, people are going to look back and say this is one of the most important social movements on college campuses," she says. "And I know that if 10 years from now someone asks me, 'What were you doing back then, Kimberly?' I want to be able to answer, 'I was standing up, speaking out, and supporting these women. What were you doing?'"
Image by Jim Cooke.