Date My School was founded about a year and a half ago by two Columbia MBA students who wanted to start a site that would allow users to connect with date-able students at other colleges, and then download their pictures and masturbate to them. Based on user data, they've been finally, definitively able to answer the age old question: Which school is an Alma Mater I'd Like to Fuck? And which schools are serial bonerkillers? Let's find out.
The folks at Date My School didn't set out to compile data on collegiate hotness, but realized that the sheer amount of data they were handling allowed them to have an interesting peek into what piqued users' interests. The site doesn't have a Hot or Not style rating system, but rather assumed that the most downloaded pictures belonged to the hottest individuals, and they compiled download data into a "hotness" scale.
Without further ado, here are the top ten hottest schools, based on how many creepers have saved their students' profile pictures to their own computers:
1. Fairleigh Dickinson University
2. School of Visual Arts
3. Penn State
4. FIT
5. Montclair
6. Indiana University of Pennsylvania
7. Queen's College
8. City College of New York
9. Stony Brook
10. Fordham


When you break the hotness down by gender, though, the results change a bit. Schools boasting the most download-worthy bros:
1. School of Visual Arts
2. Queens College
3. Fordham University
4. Dartmouth College
5. Boston College
G/O Media may get a commission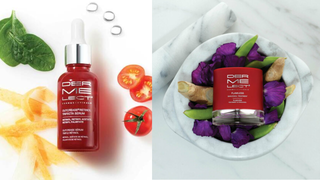 Save $19
Retinol Renewal Kit

And the most internet-popular girls:
1. University of Minnesota Duluth
2. Baruch College
3. Pennsylvania State University
4. Rutgers University
5. Queens College
According to the site, the hottest gay girls are at Central Michigan University, and the hottest gay guys are at The New School.
And, if you're a student at Southern Illinois University-Edwardsville, Stanford University, San Francisco State University, Columbia University, or Harvard, your school bears the dubious distinction of being home to the least sexy students, be them women, men, lesbians, or gay men, respectively.
At this point, you might be thinking: wait a gosh darn minute! A social network that indulges the collegiate need to internet stalk hot people? Doesn't that already exist? Isn't that called "Facebook"? Au contraire, Doubting Thomas. Date My School differs from Facebook in several important ways. First, it's got a different name. Second only people with verifiable .edu email addresses can sign up. Third, it's anonymous, so your creepiness need never be known to the world at large.
Now that everything that humans could possibly need has been invented, it's so nice that we're able to focus on answering the important second tier questions. Facebook shows us whether or not the girl who bullied us in middle school inherited her mother's unfortunate neck, smart phones phones give bosses a reason to question our professionalism when we're not available to talk about work at 8 pm on a Friday, and now, Date My School shows us what schools are the most spankable. This is truly a magical time.
Date My School identifies the nation's 'hottest' colleges [Atlantic Wire]