Jane Austen's death at the tender age of 41 has long perplexed scholars, doctors, and fans. And now, there's a lead:
There is, at present, a really interesting show on at New York's Morgan Library, "A Woman's Wit: Jane Austen's Life and Legacy." It involves numerous primary sources and altogether presents as complete a portrait as one can realistically find of the famously private novelist. But - and this might stand as a useful metaphor for Austen fandom in general - you can't visit the exhibit without being aurally assaulted by the voices of the pundits in the continuously-playing film The Divine Jane. Although the film is actually in only one corner of the room, the audio - of Fran Lebowitz, Cornel West, and four other "writers, scholars, and actors" talking about her influence on them - is broadcast, loudly, throughout the room as we attempt to read Austen's letters and contemporary ephemera. Fair enough, I guess; some of the quotes are interesting enough and we get it: she has a wide appeal and reach. But this film had exactly nothing to do with Jane Austen's life, and everything to do with these 20th century thinkers ("I fell madly in love with Elizabeth Bennett, and of course I identified with her"), and we weren't allowed to separate the two. (Watch it here if you want to share - or not - my intense irritation.) It was didactic, and it was telling. Jane Austen is public domain.
As is her death. And, sure, it's fascinating. But it's also a reaffirmation of her peculiar status, both of the world and stubbornly elusive. While researchers have hypothesized since the 1960s that Austen died of a form of the adrenal gland-impairing Addison's disease - based on the scant hints in her correspondence - now there's a new theory: TB. Katherine White, an Addison's researcher, sums up Austen's symptoms as "bed-ridden exhaustion, unusual colouring, bilious attacks, rheumatic pains." While these could fit Addison's, her mental lucidity (advanced Addison's would typically have involved discombobulation, as well as pain and weight loss) have led others to suggest lymphoma, and, now, tuberculosis.
This diagnosis depends upon interpreting Austen's description of her complexion as "black and white and every wrong colour" as a reference to under-eye circles rather than a more general discoloration. Nevertheless, argues White,
Loss of concentration is reported by more than half of contemporary patients during their pre-diagnosis illness, while extreme sleepiness, slurred speech, confusion or a semi-conscious state are characteristic of adrenal crisis. Vomiting did not feature in Jane Austen's final 48 hours. Her family did not report an emaciated appearance and took comfort in the fact that she did not suffer greatly during her final illness.
More likely, she writes in the journal Medical Humanities, it was bovine-borne TB, an ignominious and common complaint of the era.
The only thing that can be asserted for certain is the following, from the London Times :
Carole Reeves, the Outreach Historian at the Wellcome Trust Centre for the History of Medicine, University College London, said that it was impossible to diagnose cause of death with certainty so long after the event.
G/O Media may get a commission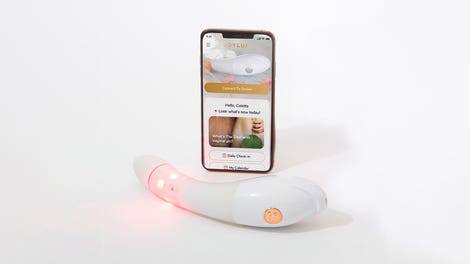 $50 Off
Joylux vFit Gold Device
The paradox for me is this: doesn't it, ultimately, make us know Austen better in some ways to not know - as she didn't - the ultimate cause? In this, as in so many things, 21st century anachronisms have very little to do with the reality of her existence. (Not that I don't like a mystery as well as the next guy. Cue obligatory "truth universally acknowledged" reference. Oh, wait. )

Cause of Jane Austen's Death Not Universally Acknowledged [Guardian]
Jane Austen Probably Died From Tuberculosis, Claims Scholar [TimesUK]
How Jane Austen May Have Died From Tuberculosis - Not Addison's Disease [Daily Mail]