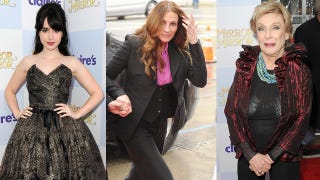 This weekend, young Hollywood showed up for the red carpet premiere of Mirror Mirror with Snow White-themed accessories. Cloris Leachman showed up in a snow white bra.
Star of the film Lily Collins chose a cooler, less-ethereal pretty princess dress.
It seemed like Julia Roberts didn't want to steal Lily Collins' thunder, so she kind of ran through the red carpet in her pantsuit.
I'm guessing Alicia Arden had these "mirror mirror" shoes custom-made for this event, because where else would she possibly wear something so hideous. She's not even in the movie.
Stefanie Scott's apple purse was a much cuter idea.
I don't want to kick Bonnie Bentley while she's down. Her IMDb page credits her as "Poor Woman" in Mirror Mirror.
All in white: Kalia Prescott, Renee Olstead, Amara Miller.
Kylie Jenner looked very smart, but I actually think that Kris Jenner and Kiernan Shipka were best dressed, because their coats were so nice.
Cloris Leachman may have had something of a wardrobe malfunction but at least she didn't look like a couture potato sack (Chris Galya) or a napkin (Courtney Hansen).