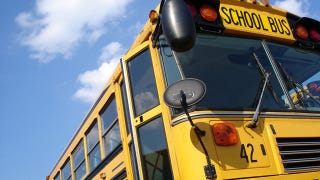 We're aware that most children are little monsters (and not in a fun Lady Gaga way), but a group of Florida students have reached a new low. On Friday, a 13-year-old girl took the school bus in Ocala for the first time. No one would let her sit down, so she sat on her sister's lap instead, prompting even more teasing from the students on the bus. Someone threw a shoe at the girl's head, and when she hurled it back a fight broke out.
The bus driver tried to stop the brawl twice, and then pulled over and called for help. However, by then the girl had been beaten unconscious and suffered a concussion. She's expected to recover and five girls and two boys between the ages of 12 and 15 have been arrested. It's likely that they'll be expelled and sent to a school that's better equipped to handle horrid children.
Image via Craig Barhorst/Shutterstock.