Earlier this month, the producers of the popular Netflix series The Crown admitted they paid series star Claire Foy, who plays Queen Elizabeth II, less than supporting actor Matt Smith (Prince Philip). The revelation sparked some well-earned outrage, with fans going so far as to launch a social network campaign to convince Smith to donate his difference in salary to Time's Up, a la Mark Wahlberg. This weekend, Foy spoke with Entertainment Weekly about the pay disparity and subsequent fan fury, noting she was "not surprised" people were so angry about the wage gap.
"I'm surprised because I'm at the center of it, and anything that I'm at the center of like that is very very odd, and feels very very out of ordinary," Foy told EW in an interview published on Saturday. "But I'm not [surprised about the interest in the story] in the sense that it was a female-led drama. I'm not surprised that people saw [the story] and went, 'Oh, that's a bit odd.''

Left Bank creative director Suzanne Mackie revealed at the INTV Conference in Jerusalem earlier in March that while Foy made $40,000 per episode during The Crown's first two seasons, Smith, who played the titular character on Doctor Who, made a little more than that. Mackie did not reveal his exact salary.
Fans were furious, so much so that Mackie and her co-producers ended up putting out a statement alleviating Smith from any pay gap responsibility. "As the producers of The Crown, we at Left Bank Pictures are responsible for budgets and salaries; the actors are not aware of who gets what, and cannot be held personally responsible for the pay of their colleagues," they said. "We understand and appreciate the conversation which is rightly being played out across society and we are absolutely united with the fight for fair pay, free of gender bias, and for a re-balancing of the industry's treatment of women, both those in front of the camera and for those behind the scenes."
Foy, whose storyline on The Crown has now ended (Olivia Colman will play an older Queen Elizabeth II in Season 3) didn't dig in to how she felt about getting paid less than Smith, but she did stand up for Smith. "I know that Matt feels the same that I do, that it's odd to find yourself at the center [of a story] that you didn't particularly ask for," she told EW. Meanwhile, costar Jared Harris, who plays King George VI, told Digital Spy last week that the show's pay gap was "an embarrassment," and blamed Left Bank for the discrepancy. "It's got nothing to do with Matt Smith. That's got to do with Left Bank Pictures. It's probably nothing to do with Netflix either," he said.
G/O Media may get a commission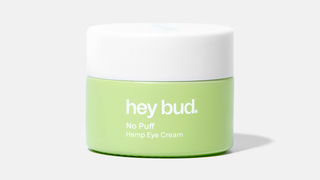 15% off
Hey Bud - No Puff Hemp Eye Cream
Harris noted that while Smith's profile was initially bigger than Foy's, thanks to his aforementioned Doctor Who tenure, once she became the show's breakout star, Left Bank should have readdressed her salary, particularly since Foy worked longer hours than Smith and had a bigger role. "[T]hey could've, at that point, paid her as much as him. That was their choice. And, right now, they're probably wishing they did," Harris said.
The good news is, Mackie promised that "going forward, no one gets paid more than the Queen," so Colman will get her fair shake in the upcoming season. Or ELSE.