Last night, I asked Cindy Crawford if she had any reaction to Vogue's recent decision to stop hiring models under the age of 16 (and models who, in Vogue's words, "appear to have an eating disorder"). Unlike some of her colleagues, who have embraced the measure, Crawford's response is more of a shrug.
The Vogue move, which affects all 19 of the magazine's international editions, has been hailed by everyone from Milla Jovovich to Stephanie Seymour's teenaged sons. Tyra Banks felt moved to write an entire fulsome op-ed about the development for Newsweek. (My personal thoughts are somewhat more mixed: the tone and volume of praise that has been offered is somewhat confusing, because as I see it, Vogue is not doing something good so much as promising to no longer do something now almost universally acknowledged as bad. And the industry's past attempts at self-regulation have resulted in some rather spectacular failures.) The fashion industry's reliance on a workforce of extremely young girls is sort of a systemic problem. It's easier to push around a 15-year-old from a third-world country — and easier to convince her that downright insane working conditions, like not being paid for 30+ hours of labor, are "normal" — than it is even a slightly older, more experienced model. Vogue's decision is being called "revolutionary" and ground-breaking. Did Cindy Crawford have any thoughts about this?
Crawford was silent for a few seconds. Then she said, "Honestly, not really." I pressed. Long pause. "I don't know. I guess it's...great." She drew out the word in a tone that may have been unintentionally ironic. "But that was never one of my issues, so. I think that the fashion industry is in the consumers' hands. Because if they buy into it, nothing will change. If consumers don't like it that models are too skinny, or too young, and they don't buy the magazines, then believe me, then the magazines will have to change."
G/O Media may get a commission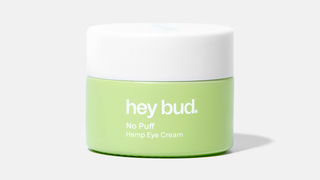 15% off
Hey Bud - No Puff Hemp Eye Cream
Crawford was fêting the launch of a new brand of rum called Caliche, which is being launched by her restaurateur husband, Rande Gerber. A reporter from Interview interrupted and asked Crawford a few questions about the rum. Was Cindy involved in any taste-testing, and rum R-&-D? She was. Someone said A-Rod was there, but he wasn't taking questions. Meanwhile, Billy Magnussen, the actor who plays the particularly dumb frat boy Thor in Damsels in Distress was demonstrating silly walks in the corner and talking about the vintage haircut he has to maintain for his role on Boardwalk Empire.
Crawford began modeling locally in Chicago at 17, and briefly attended college (Northwestern, on an academic scholarship) before moving to New York and beginning her international career at age 20. That's older than most models, who typically begin working in their early teens, many of whom are lucky if they can find time to earn their GED. One could even argue that Crawford's career demonstrates that beginning work just a few years older than the current norm — 16, rather than 13 or 14 — can help lead to better outcomes for the girls concerned, financially and educationally. (Not that age restrictions alone are a panacea: you can be sexually harassed at any age, you can be defrauded at any age, and, as the model Crystal Renn has said, you can have an eating disorder at any age, too.) So age isn't your stated issue, I replied: what are the biggest issues models face in the industry today?
"You know, I don't know. I'm not still in the trenches right now. But if you make too many rules — like, 'You can't work this many hours' — it doesn't work, because sometimes you have to. Sometimes you have to get up early or be prepared to do the job in the freezing cold. I think that, again though, models have to have a voice and speak up for themselves, every day, on the job...People have to respect each other. And if you're working with someone who doesn't respect you, then leave."