Ciara has broken up with her fiancé rapper Future because he reportedly couldn't keep it in his pants. The couple also have a three month old baby named Future Zahir Wilburn and this is the summer of unhappiness.
According to Us Weekly, Ciara and Future welcomed adorable baby Future earlier this summer and that's about how long it took the pop princess to realize that the auto-tune king wasn't true.
"He cheated on her. Game over," an insider tells Us of the "Turn On the Lights" rapper. Another source adds: "She's devastated. Ciara's focus now is the baby."
Introduced through their label Epic, the pair were a publicity dream, especially for an R&B singer who could use some attention and a T-Pain-esque rap singer who could use some mainstream credibility. After meeting during a studio session, the couple dated for one year before Future proposed on Ciara's birthday last October. Now, they've got a baby and their relationship is over. I'm sure L.A. Reid, the head of Epic, is annoyed but as UGK's Bun B once said, monogamy is hard, man.
The advice I usually offer young entertainers and athletes is be smarter than your dick because your dick is going to make decisions that your brain would be totally against. The hardest thing for mankind, men and women, to deal with is the attraction of the flesh. It's a daily struggle. For example, I used to smoke cigarettes for years and I quit. Do I still want cigarettes? Yes, every time I see someone smoking a cigarette I'm jealous, but I won't have one because I know it's bad for me.
G/O Media may get a commission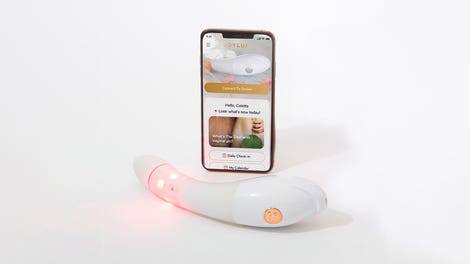 $50 Off
Joylux vFit Gold Device
Future's an interesting guy because he already had three children by three different women before his son with Ciara. Late last year, he clarified that his children are 11, 4 and 1 and at least two of the mothers are civil enough with Ciara to have been invited to her baby shower alongside Kim Kardashian and LaLa Vasquez earlier this year.
Now, I did not drudge up any stereotypical black male stereotypes. Let's deal in facts, if a person has that many kids by different women around a similar age range, either everyone is polyamorous or somebody's cheating. Future's children are pretty spaced out in age so he may've genuinely had several relationships before Ciara. But if he is a cheater, Salon writer Jenny Kutner notes, folks who have cheated on a partner once are three and a half times more likely to do it again in the future — no pun intended, I swear.
By polling 484 unmarried people between 18 and 34 years old, University of Denver graduate researcher Kayla Knopp also found that people who've been cheated on in the past are also more prone to be betrayed again. This trend of old habits dying hard, or rather not dying at all, crosses into abusive behavior too, according to Knopp.
Respondents who reported lots of yelling, shouting, pushing and shoving in one relationship were three times more likely to engage in the same behaviors in their next relationship — even after controlling for their partners' aggression in both relationships. And people who reported being the victims of aggression in a previous relationship were five times more likely to report being victims again in their next relationship.
We start relationships hoping that our partners and we ourselves can change but Knopp's study shows that conventional wisdom may be true, people don't change … without therapy and a dedicated will to improve.
Image via Getty.