Failed senatorial candidate and noted non-witch Christine O'Donnell has announced that she's been invited on Dancing With the Stars. But she's not sure if she should accept — let's see what her Facebook friends have to say.
The AP spotted O'Donnell's announcement, which she terms a "FACEBOOK EXCLUSIVE:"
I just got the Official "Ask" from Dancing With The Stars !!
Although I am utterly flattered, my initial thought was to decline, as 2 year old nephew has more rhythm than me, and my two left feet!!
However Eileen thinks i should do it.
What do you think?
Opinions are divided! A sampling:
Pro-dance
Do it. You will drive the liberal community insane.
FB user Edward Rush has apparently confused "driving the liberal community insane" with "making us laugh our asses off."
You've got a great personality and DWTS is a great way to showcase yourself and your beliefs. Get yourself out there! Do it and do... it immediately. Do not delay on this.

This is the path that is laid before you. Do you have the faith to follow it?
In fact, don't even wait for the season to start! Begin dancing IMMEDIATELY!
Do it. Look how well they made Bristol dance.
This sort of implies that Bristol is a robot. Intriguing.
Anti-dance
In my most candid opinion; I'm not too keen on the idea. I believe that this venue would not elevate your status. I'm sure you are a quite affable and approachable person. However, I just am concerned that you would not be taken as seriously.
G/O Media may get a commission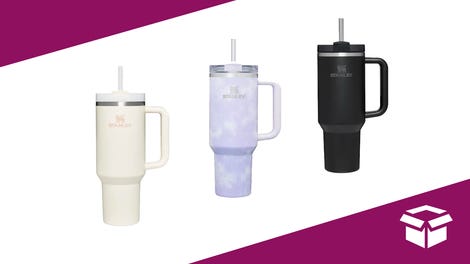 Up to 45% off
Stanley Cup Sale
This guy has a point — O'Donnell shouldn't do anything that would jeopardize the great respect she enjoys as a serious political figure. Relatedly:
The decision is simple: Go on the show and marginalize yourself even more. Don't and you maintain a valid voice in politics.
Key word: maintain.
Would you really cheapen yourself enough to become a character of yourself? Hell, I wouldn't even do dancing with the stars.
Christine, if it's not good enough for Julie Dilworth Brewington, it's not good enough for you. And finally, our favorite opinion of all:
People here have commented that the producers want you to act a fool... don't listen to them. You and I both know that you won't be acting.
Christine O'Donnell: 'Dancing With The Stars' Invited Me On The Show [AP, via Huffington Post]
Christine O'Donnell For US Senate [Facebook]