I am really excited about Chloë Grace Moretz's budding career. In a press conference for Clouds of Sils Maria, in which she plays an American starlet and "tabloid fixture," the 17-year-old actress expounded on various topics like the difference between French and American cinema and the change in the celebrity lifestyle and expectations:
"You have to be the most realistic person, the one that makes your own toothpaste — that's what it is now," she said. "There's no vaseline on the lens anymore. We want the sharpest image, to see all your pimples! We want to see that you're a messed-up human. We want to see you cheat and lie. And it's kind of depressing because, instead of being actors, we're now just entities, which isn't our job."
She also discussed the entitlement that fans feel, particularly with celebrities on social media:
There's a lot of entitlement, especially nowadays, in Hollywood, because they think they know everything about you. They think that because you have an Instagram, they can go break into your house. You let us in! I've seen your house on your video!"
Fair enough. Thanks Chloë. *sits down and rethinks life* [BuzzFeed]
---
Charlize Theron also talked about the celebrity lifestyle recently, but opted to join the ranks of Kristen Stewart, comparing press intrusion into her life to sexual assault. Oh boy! When asked if she ever Googled herself, she responded:
"I don't do that, so that's my saving grace. When you start living in that world, and doing that, you start I guess feeling raped."
G/O Media may get a commission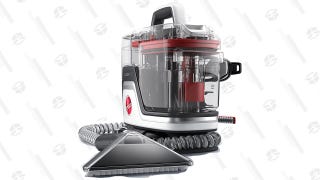 Save $10
Hoover CleanSlate Plus Carpet & Upholstery Cleaner
Sigh, there are just so many other words in the English language that express the kind of violation she's probably referring to. So many. Please learn from Chloë. [The Guardian]
---
Lady Gaga has a new French bulldog puppy named Asia, and she posted a bunch of videos featuring the adorable dog and Gaga's not so adorable dog-voice.
Also, every time she calls Asia by her name in the other videos I think she's talking to me :-( [BuzzFeed]
---


Lead image via Getty.