Actress Chloe Grace Moretz has PLENTY of people to hang out with on a Saturday night, so no one—especially not TAYLOR SWIFT—better ask her if she has plans because she DOES and TAYLOR has NOTHING TO DO WITH THEM.
During a recent interview with Complex, Chloe (who is very popular and in demand, okay???) was asked if she was invited into Taylor's infamous squad.
Via US Weekly:
"Did she, you know, ask you to join her squad?" Complex magazine asked Moretz, 19, for its April/May cover story.

Moretz said, "Yes," but didn't elaborate. "She's a very talented person," she said.
She added of squads: "They appropriate exclusivity. They're cliques!"
She's a very talented person.
I read you LOUD and CLEAR, Chlo.
---
Some friendships never die.
---
According to Radar (and you know how that usually turns out), Richard Simmons' friends are still worried about him despite his assurances to Savannah Guthrie that he is both fine and not being controlled by his housekeeper's black magic. Though he's insisted that he's just taking some alone time for his own good, his former assistant has written an open letter begging that he comes out of self-enforced solitude. [Radar]
G/O Media may get a commission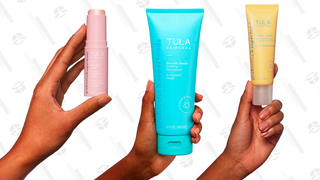 ---
---
Image via Getty.