The Obama family has settled on their post-White House residence, which means it's time to pass judgment on their choice.
We've known that the First Family planned to remain in Washington, D.C. so that Sasha could finish high school at Sidwell Friends. The Kalorama neighborhood, where the Obamas will lease the grey Tudor style home, is convenient to Sidwell Friends School. And its proximity to Rock Creek Park will afford the family a bit of privacy.

If you're a person of modest means like myself, the digs will likely seem lavish. CNN reports that the house, built in 1928, sold for over $5 million in 2014. It boasts nine bedrooms and eight-and-a-half bathrooms, and, together, the downstairs and backyard offer plenty of room for entertaining. You can feast your eyes here, though if you're prone to house-envy you might want to steer clear.
The Washingtonian has already published an editorial condemning the decision to relocate to this historically wealthy neighborhood. In "The Obamas Are Moving to Kalorama After the President Leaves Office. Ugh," Hillary Kelly argues that a former community organizer like Barack Obama should choose a more modest location — preferably a floundering neighborhood that would benefit from his presence:
"Imagine the good it could do a struggling DC neighborhood if [Obama] moved in and established himself as the figurehead of the community, showing his face at local spots and bringing a sense of excitement. The Obamas could have made a real estate selection that would have confirmed their post-presidential commitments to be of the people and not just for the people. Instead, they'll probably have more marble columns."

G/O Media may get a commission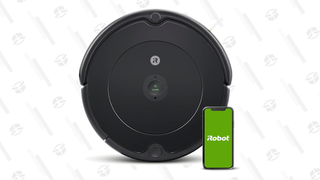 35% Off Black Friday Deal
iRobot Roomba 694 Robot Vacuum
Hmm. I don't detect any columns, though there is one pretty nifty turret visible from the front. As for marble, well, that kitchen countertop is pretty enviable.
But jeezy creezy, can Barack live? The family will still need ample space to host Secret Service protection. And with the paparazzi tagging along for every sojourn to Whole Foods, any amount of privacy must be welcome. Washington D.C. does not offer too many secluded spots; the one the Obamas have chosen at least faces an expanse of wilderness.
It would be lovely if the Obamas spent their last years in D.C. bolstering struggling communities. I suspect that they will find other, non-residential ways of manifesting their support in that regard. Meanwhile, the Obamas can live where they please, just like every other former presidential family.
---
Top Image via Realtor.com. Screengrab via Google Maps.