In a press conference this afternoon, the Charlottesville, Virginia Police Department announced that they are "unable to conclude to any substantive degree" that the gang rape allegations made by University of Virginia student "Jackie" and reported in a November story in Rolling Stone happened in the way that the article describes. Police Chief Timothy Longo said the investigation has been "suspended" pending further evidence, but not yet closed.
Flanked by the two detectives who investigated the case, Longo told a crowd of reporters that his officers interviewed some 70 people, spending "hundreds of hours" trying to unravel what happened in the case. He said, too, that while the evidence shows that there was no party at the Phi Kappa Psi fraternity the night Jackie says she was gang raped, "I'm not in a position to say something terrible didn't happen to that young lady that night."
According to Longo, the Charlottesville police were first made aware of Jackie's allegations in April 2014, when a detective met with UVA Dean of Students Nicole Eramo. Jackie had met with Eramo at least twice at that point in connection with what Longo described as "academic issues."
In their first meeting in May of 2013, Longo said, Jackie described "a sexual act," albeit one that was "not consistent with the facts and circumstances described in the Rolling Stone article." They met again in April 2014, and Jackie alleged that four men had thrown a bottle at her earlier that month, on April 6, 2014. For the first time, she also told Eramo that she had been sexually assaulted at the Phi Kappa Psi house in 2012—she had not initially said where the assault took place. (Longo also noted that Jackie said the glass bottle hit the side of her face, and that her roommate, a nursing student, had to pick shards of glass out of her face that night. The roommate was subsequently interviewed by police and denied that, saying Jackie had more of an "abrasion" on her face.)
Eramo called the police in April 2014, Longo said, but Jackie declined to speak to them. "She did not wish to report that incident that night to the officer who responded to meet with Dean Eramo," Longo said. "No report was written at her request." Jackie met with police again in May of 2014, but again refused to talk about the alleged sexual assault or the glass bottle incident.
G/O Media may get a commission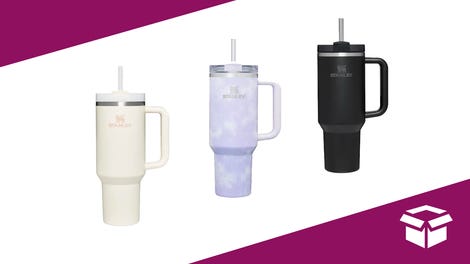 Up to 45% off
Stanley Cup Sale
After the Rolling Stone story came out, in December 2014, Longo said the police contacted Jackie again. She came to the police station accompanied by a UVA dean and an attorney and again refused to answer questions.
The police launched their own investigation, Longo said, polling the Phi Psi members and checking their social calendar. They were unable to confirm that a party happened that night, Longo said, pointing out that their sister sorority had a formal that same night and it was unlikely that they would "cannibalize" the sorority's event.
The police also interviewed two of Jackie's friends who supposedly came to her aid after the sexual assault, and found that their recollection of the night differed from Jackie's. (Longo didn't go into detail there, but those friends have been repeatedly interviewed about how they remember the night.) Longo said, too, that they were unable to confirm the existence of the person Jackie said she was going on a date with that night, a man she'd told her friends was named "Haven Monahan."
"We searched numerous internet sites to try to identify him," Longo said. They found the number he'd been supposedly texting Jackie from was a Google Voice number, but couldn't obtain any subscriber information. They also interviewed staff members at the school's aquatic center and couldn't find anyone by the name of Haven or "Drew," the pseudonym used in the article. Jackie had said she worked with Haven as a lifeguard there.
During the investigation, Longo said, the police contacted another person of interest, who provided financial information and work schedules to rule him out as a suspect.
In the end, Longo said, "we were not able to conclude to any substantive degree that an incident occurred that is consistent with the facts contained in that article." He added, "That doesn't mean that something terrible did not happen to Jackie on the evening of September 28 2012. We are just not able to gather sufficient facts." (We should note, too, that at one point during the press conference, Longo appeared to slip and identified "Jackie" by a different name.)
Longo said, too, that the police are still investigating two other alleged rapes mentioned in the Rolling Stone article, one in 2010 and one in 2014. He asked that if anyone has information about an assault at Phi Psi or any other fraternity house, to contact police immediately.
"Having police involvement at the early stages of these investigations is extremely important," Longo said. "As I said months ago and repeat now, with every second of every minute of every hour of every day of every month of every year, we lose evidence. We lose testimonial evidence, we lose physical evidence, we lose forensic evidence. We lose the evidence that's important to get to the truth behind these cases so justice can prevail. "
Image via Flickr/Bob Mical
---
Contact the author at anna.merlan@jezebel.com.
Public PGP key
PGP fingerprint: 67B5 5767 9D6F 652E 8EFD 76F5 3CF0 DAF2 79E5 1FB6