Just last month, Channing Tatum said, "This will be my swan song, I will never do or talk anything about stripping after this ever, ever again." That was before Magic Mike — which only cost $7 million to make — earned a very respectable $77 million at the box office in 12 days. But going by Ocean's Eleven, Ocean's Twelve and Ocean's Thirteen, it would seem that Steven Soderbergh loooooves a star-studded sequel.
And so, when Glamour UK asked Channing Tatum if there would be a Magic Mike 2, he replied:
Yes, yes and yes! We're working on the concept now. We want to flip the script and make it bigger.
The weird part is this: In the movie, Mike wants to leave behind the hollow life of stripping, being fondled and ogled like a sweet piece of mancandy. And in real life, Channing Tatum, former stripper, longed to retire as a half-naked professional body roller. But with Magic Mike 2, he's right back where he started: Getting paid to take off his clothes. Because if you ask folks who saw Magic Mike what they'd want from Magic Mike 2, the answer would be a collective and resounding "MORE NUDITY." Also? Full frontal. Just saying! It's unclear what Tatum means when he says "flip the script," but when it comes to stripping, everybody knows what "make it bigger" means.
G/O Media may get a commission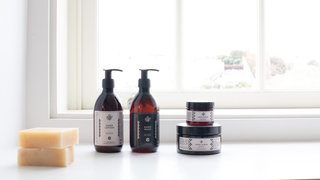 Exfoliate and Hydrate
The Handmade Soap Company