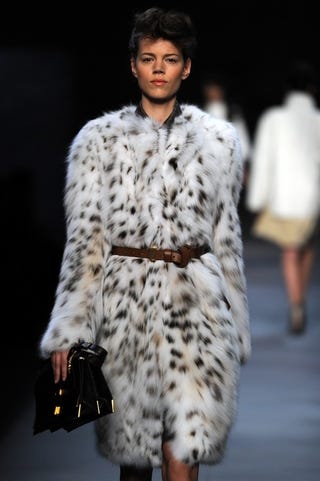 Fendi, of course, is all about luxe. And Fur. Enter the realm of the furries, if you dare...
Maybe they were thinking of that line from Singin' in the Rain: "the sleeves are lined with monkey fur to lend a dash of drama."



Well, that or Mr. Burns performing "See My Vest."

This one, on the other hand, reminds me of an obscure fairy tale I read when I was little, about Princess Furball, who wears a coat made of hundreds of scraps of fur. It was not, as I recall, intended as fashion inspiration. I think she also has to wear it while cleaning out grates and stuff.



Don't worry: If the getups didn't include fur, a fur piece was, of course, added!



Sans Clan of the Cave Bear styling, many of the clothes were classically gorgeous.



And the 40's dos were really lovely.



And, this being a House of Bags, purses were in everywhere.



Creative Director Karl Lagerfeld.


[Images via Getty]