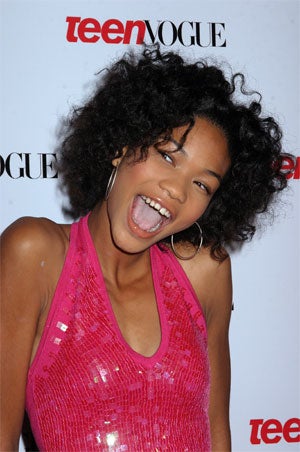 We had longed wondered what kind of woman names her daughter Chanel Iman. One named China Robinson, clearly. And what does China say about birthing one of the top models of the season? "I'm excited that she can do what she wants to do at such a young age. I mean, she's always wanted to do it since she was just a toddler." Wait, say that again? Toddler? Anyway, Ms. Robinson says that she loves seeing her daughter working because "when she's working, she's happy." And when Chanel is happy China is happy. Usually, that is.
Well, there's been a few times when I'm like, 'Uhh, I'm right here!' (laughs). It's like, it's ok but don't touch her, and don't proposition her. I'm right here. So, yeah.
Yeah, that's our mom's policy too. Just don't proposition us while she's standing there. When she's not standing there ? Go for it.

Meet China Robinson, Chanel Iman's Mom [The Fashion Informer]