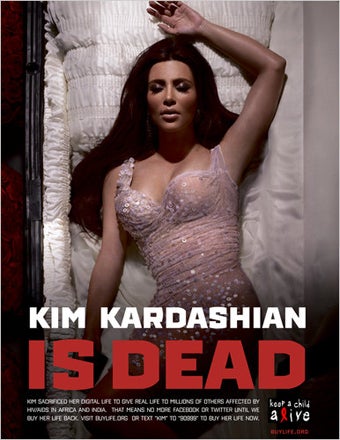 Wednesday is World AIDS Day, and stars like Kim Kardashian will "sacrifice" their digital lives for charity. Sacrifice!
In other words, Kim — along with Lady Gaga, David LaChapelle, Justin Timberlake, Usher, Serena Williams Elijah Wood and more — won't Tweet, Facebook or blog… until fans have donated $1 million.
It's an interesting campaign, in that this modern sacrifice — refraining from social networks — actually requires a lot less effort than, say, a charity walk. Plus, wouldn't some people would pay for the Kardashians to stop tweeting and blogging?
On the other hand, it's for a good cause. As Amy Wallace writes for the New York Times:
If even one in 1,000 of the 3,465,527 followers of @jtimberlake is willing to donate $10 to reactivate the account on which he recently posted "Happy Halloween everybody!" - well, it will start to add up.
Organizers are predicting "a flurry of freak-outs among a few who think Kim Kardashian or Alicia Keys are actually dead. That will be outrageous." Almost as outrageous as believing that abstaining from Twitter is being giving.