They call it Nerd Prom, but the White House Correspondents Dinner is more like Bizarro World where Diane Sawyer and Kris Jenner rub shoulders with Stephen Spielberg and Colin Powell. What happens when you ask Hollywood people to dress appropriately for Washington, DC? Let's take a look.
Kim Kardashian did that '60s thing she does quite well. Hair piled up in a vintagey bun. Velvet body-skimming dress. Elegant! Subdued even. Bizarro World, people!
After missing her plane, Lindsay Lohan arrived with both sexyface and smileyface intact. Black satin is a dangerous and unpredictable animal. It can look luxe, but it can also look wrinkled and cheap. The lights of the flash pick up every ripple, every seam, the stitching of the huge hem, etc. Not good, LL.
G/O Media may get a commission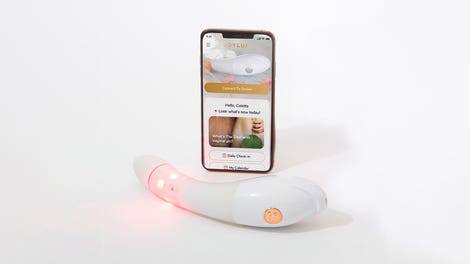 $50 Off
Joylux vFit Gold Device
BTW, here's Lindsay, her lawyer Shawn Holley, and Kim Kardashian, mid-chew.
Again: Making the case for Bizarro World: True Blood's Ryan Kwanten gets groped by Caroline Manzo, "real" "housewife" from New Jersey.
There were some lovely neutral colors on the red carpet: Eva Longoria picked something short and sweet. Malin Ackerman opted for a column that seems both too small (up top) and too big (around the hips). Dakota Fanning is probably sick of hearing this but: She looks so grown-up! Her glittery gray gown is really pretty.
More pale hues: Zooey Deschanel's strapless misty gray dress might be a tiny bit too long, but it's dreamy. Claire Danes is va-va-voom in a silky bias-cut number. Martha Stewart is… um… the scarecrow's girlfriend who lives on Carnaby Street?
Also looking superb in light colors: Irina Shayk and Uggie.
Brights! Rosario Dawson brought the girls out for air in a hideous green dress, but of course, no one was looking at the dress or even noticed what color it was. Kris Jenner and Viola Davis both elected to try ruby red one-shouldered gowns. Viola wins this battle, but only because Viola should win everything… Kris's dress is pretty cool, too.
More red: Chrissy Teigen sidles up to John Legend looking like the definition of slink. Elizabeth Banks is regal and glorious, like she's been awarded the part of Red State Fundraiser. Lauren Bush and David Lauren are as crisp and straight as a newly printed hundred dollar bill.
Kate Hudson, like Kim Kardashian, channeled the swinging '60s. Eggplant-colored sequined long-sleeved dress doesn't sound like a good idea, but she looks great.
Couples complementing each other: Leslie Mann and Judd Apatow are both polished and appropriate. Anna Paquin and Stephen Moyer are dramatic in not-so-basic black; and Swizz Beatz and Alicia Keys are both like, hey, we got sorta dressed up, but nothing too fancy.
Reese Witherspoon seems like she could be in politics, or at least a politician's wife. Maybe because of Election. This anything-but-basic-black column with an interesting twisty neckline gets added WOW from those earrings. Those earrings are like WOW.
More black: Sigourney Weaver threw on a tablecloth and arrived shouting, "Sup bitches?" Sofia Vergara, I love you, but it's a D.C. dinner, not a junior prom. Longer dress, please. And ixnay the ankle-snapping platforms. Diane Sawyer = perfection.
Is the peachy apricot dress making Kerry Washington look washed out, or is it that lip color? Unsure. She's beautiful but something's off. Meanwhile, your boyfriend Paul Rudd wants to know if he looks okay.
Ann Curry has had it up to here with the pictures. It's just a dress. Get over it.
Ivanka Trump's sexy beaded gown is gorgeous and figure-flattering. Rashida Jones could learn a thing or two from Ivanka — her frock does nothing for her. Rachel Zoe's dress is pretty, but is so close to her skin tone that it's just a monochromatic yawn for the eyes.
Gayle King and Arianna Huffington both chose a putrid chartreuse that is either vomit or baby poo, depending on the way the light hits it. I can't decide if the satin or the lace version is the worse one, and I'd much rather check out what the lady near Arianna in the leather boots and elbow gloves is wearing. The vivid blue hue of Tamara Tunie's dress is a sight for sore (baby poo-assaulted) eyes.
Another bold and beautiful blue on Renee Puente, Matthew Morrison's date. Very Nice. Not sure what's up with Mary J. Blige's hair, but since she's Mary J. Blige, it doesn't matter. Al Roker's wife looks hot. It's steamy in her neck of the woods.
We got an email informing us that Ginnifer Goodwin's dress is from H&M, as part of their "Conscious Collection," which means it's made of sustainable materials — organic cotton, hemp and/or recycled polyester. Looks pretty great for a green gown — priced at $299! Limited edition, of course. Tory Burch's dress is probably not eco-conscious, but it's softly structured, and neat without being prim. Darren Criss was there, so I threw his picture in, but I think he looks better with his adorable specs.
Images via Getty.