Just days after Us Weekly editor Janice Min urged the public to stop the single-minded "mom shell" mentality—criticizing celebrities like Hilary Duff and Bryce Dallas Howard for not dropping postpartum weight fast enough—it should come as no surprise that the woman that Goop Paltrow credits for getting rid of her self-described "bat wings" and "flabby ass" would have little sympathy for the fitness routine of the postpartum everywoman.
Workout guru Tracy Anderson has also worked with Madonna and Jennifer Lopez, but her intense (and expensive, and time-consuming diet and exercise program) isn't exactly the most accessible one on the market for us Muggles. Anderson told DuJour Magazine:
A lot of women use pregnancy as an excuse to let their bodies go, and that's the worst thing. I've seen so many women who come to me right after [having children] with disaster bodies that have gone through hell, or they come to me years later and say, 'Oh, my body is like this because I had three kids.'"
She also pointed out that she only gained 30 lbs during her pregnancy, and dropped it all in six weeks. Only, in her mind, Anderson likely refers to this period of time not as "pregnancy" and "birth" but as "the days I was fat" and "the day I lost a bunch of weight without even doing all of my step exercises! What is that little tiny screaming?" [Radar Online, ABC News]
---
G/O Media may get a commission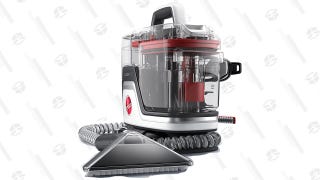 Save $10
Hoover CleanSlate Plus Carpet & Upholstery Cleaner
Once upon a time, a child called Courtney Stodden married something much older called a Doug Hutchison, and it was dark and sad, and she had this faux-"titillating," alliterative Twitter, and then they went away for awhile and we all breathed a sigh of relief. Well, just like that number from Sondheim's Follies, They're Still Here, and she turned 18 and he gave her "a little boy Italian Greyhound named Dourtney." And there you have it. [E! Online]
---
Harry Wales and the Tri-Blizzard Tournament: Allegedly, there were copious amounts of cocaine flying around in the Vegas hotel room that housed Prince Harry, Prince Harry's bare ass and all of those random naked women. [Radar Online]
---
Judging by these photos, Matthew McConaughey appears to be at the tail end of his drastic 30-lb weight loss for an upcoming film, The Dallas Buyers Club, in which he plays a man with AIDS. Here he is arriving on the set of Wolf of Wall Street. "For me, it's more of a mental thing than a physical thing. I'll get down to the weight I need to get to. I'm on my way, and it's what I need to do for the job... It's a bit of a spiritual cleanse, mental cleanse. I'm drinking a lot of tea." Good Lord, those pictures. [Daily Mail]
---
It's the end of an era: Lindsay Lohan, the earnest Austrian nun whose over-enthusiastic singing prompted the convent to send her to a bourgeoise, motherless family who at first seems cold and aloof but actually desperately needs her, has been banned from the Chateau Marmont for ducking out on her $46,350.04 bill. During her 47-day stay, here's what she spent, via TMZ:
Minibar charges for the 47 days: $3,145.07. The highest daily tab ... July 1st — $502.43!!!

Cigarettes: $686. She blew through 49 packs in 47 days at $14 a pop

— Chateau Candle: $100

— Chateau restaurant: On July 4 Lindsay racked up a $1,992.07 bill. On top of that, she spent $685.96 that day on room service.
She's been ordered to get her stuff out of the room by noon on August 1st, and then deemed persona non grata forever. [TMZ]
---
Many moons ago, or I'd only assume many moons ago as the timeframe isn't disclosed, George Clooney had a fling with Real Housewives Of New York's Carole Radziwill. Although she says she doesn't kiss and tell, she tweeted that if she did, she'd say that he was "a very good kisser" and totally ASTOUND US ALL. So despite what you may have believed, George Clooney is good at the fuckz. Moving on. [Us Weekly]
---