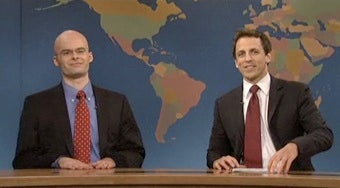 To be perfectly honest, last night's episode of Saturday Night Live wasn't that great. However, there were a few highlights, and most of them came from the cast's ability to pull off some pretty dead-on celebrity impressions.
The episode started with another weak Obama impression by Fred Armisen, who is either doing some sort of subtle commentary by giving up his impersonation halfway through the skit or is just over the job altogether. It was a pretty weak opening, but the monologue, which poked fun at host Drew Barrymore, had a few bright spots:



Continuing the "impressions were the best part of the night" theme, Bill Hader's James Carville impression just keeps getting better and better, and was truly the highlight of the show:



The "Celebrity Ghost Stories" sketch featured Abby Elliott's Anna Faris impression, as well as a cameo by Justin Long, who stopped by to play Matthew McConaughey. The sketch slowed down with Drew Barrymore's attempt at playing Sharon Osbourne, but overall it was one of the better sketches of the night:



Here's Andy Samberg's Scrooge McDuck impression; it's terrible, but it still made me laugh.



And finally, here's Regina Spektor's performance of "The Calculation."