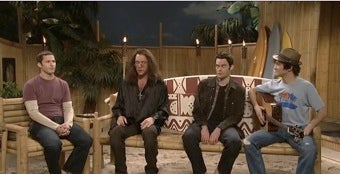 Last night's Saturday Night Live was a vast improvement over the disastrous January Jones episode that aired last week, as host Joseph Gordon-Levitt and the writers stepped things up a bit to make us laugh, as did...Dave Matthews?!
Gordon-Levitt was a good host, but I almost forgot he was there as the show seemed to belong to Al Gore, who popped up in a skit before sitting down with Seth Meyers on Weekend Update:

Andy Samberg and Kenan Thompson came together to create a digital short centered around a rapping Reba McIntire. It's pretty silly, but it probably would have been funnier had Thompson not been putting on wigs and playing women throughout the season. Kenan in drag is getting a bit old at this point, no? (That said, I've noticed the shows are markedly better this year when Andy and Kenan are around.)

Kenan's "What Up With That?" returned this weekend, and though it's ridiculous, it's just so dumb and silly that it's hard not to laugh. Al Gore got to push his new book, I suspect as part of NBC's "Green Week," and the wonderful Mindy Kaling showed up for a cameo, but didn't get to say anything; however, the look she gives toward the end of the skit is perfect.

"The Mellow Show," starring Andy Samberg as Jack Johnson, JGL as Jason Mraz, and Bill Hader as Dave Matthews, and Dave Matthews as Ozzy Osbourne was probably the best skit of the night, mostly due to Matthews' surprisingly funny Osbourne impression and Samberg's random exclamations of "hemp necklace!" and "ultimate frisbee!"

This "Woman to Woman" sketch isn't terrible, nor is it great, but I was mostly disappointed when I saw the opening, thought, "Oh! A new women's show sketch!" and was then greeted by a cranky Fred Armisen instead. Ah, well.

For some reason, this "Say Anything" skit isn't available via Hulu or NBC.com, which is odd, as it was one of the stronger sketches of the night. Maybe it's a music licensing issue? Jason Sudeikis calling Lloyd Dobler out for "trying to scare the hell out of" Diane Court was awesome:

Overall, a much, much better show than last week. Having a host like JGL certainly helped things, and it seems like the skits were tighter and that the show just had a better overall energy. Blake Lively hosts the next episode of the show, and going by the track record of starlets who have bombed this season, expectations, in our liveblog anyway, aren't so high. But perhaps she'll surprise us—that seems to be the pattern with SNL; for every terrible episode, there's a decent rebound. And that, I suppose, is what keeps us watching.