There's just something about pictures of bedding. Sheets, comforters, shams and pillows, pillows, pillows! Cozy, cuddly, dreamy. They just get you in the mood to... *yawn*. Take a look at some bedding setups from CB2, Anthropologie and Delia's after the jump, complete with a patent-pending sheep rating system: The fewer critters you have to count before you fall asleep, the better!
Remember: The fewer the sheep, the better the bedding.
Brightly colored bedding can bring some oomph to the bedroom, okay? Digging everything here except the ankle-busting bed.

Marimekko Hedwig bedding, $99.95 for a Queen set. [CB2]

Grade: 1 sheep


G/O Media may get a commission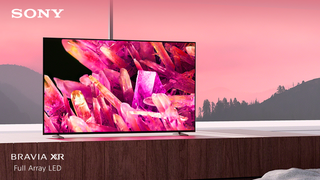 $400 off
Sony 55 Inch 4K Ultra HD TV X90K Series
Another ankle-buster. Some people like pain. Bruises in the bedroom, wink, wink. As for the pattern? Meh.

Kikku bedding, $99.95 for a Queen set. [CB2]

Grade: 3 sheep


Loving this! Plush, with pops of color. Soothing, but fun. An aside: Awesome pink bedside table.

Taj linens, $24.95 - $129.00; henna pillows, $39-$59. [CB2]

Grade: 1 sheep


Delia's sometimes has really cute bedding. This isn't it.

Victorian sheet and pillow case set, $49-$99; comforter cover, $48-$78.

Grade: 4 sheep


This is some kind of test, clearly. If you are under the age of 21 and your favorite movie is Moulin Rouge, this bedding is acceptable. Otherwise: No.
French twist sheet and pillowcase set, $49-$79. comforter cover, $48-$68. [Delias]

Grade: 3 sheep


Too cutesy? Too fun? Too girly? Not if you choose the blue or the polka dots, instead of both. But why not leave it the way it is: Can you really ever have too much fun in the bedroom?

Antique chic sheets, $69 for a Queen set; comforter cover, $68. [Delia's]

Grade: 1 sheep


While this is a dreamy bed, it's a wee bit plain. Plus, putting it in the lobby of an abandoned hotel might make it hard to sleep at night.

Crowned crane bedding, $58-$348. [Anthropologie]

Grade: 2 sheep


Into hideous acid-trip nightmares? This is the bedding for you!

Iris bedding, $58-$228. [Anthropologie]

Grade: 4 sheep


Gah. All of my secret desires to be in the remake of Les Liaisons Dangereuses could be fulfilled here. I'd love un peu more color, but mon dieu! Très sexy!

Rosemallow bedding, $58-$228; Italian campaign canopy bed, $1,250-$1,898; wingback chair, $1,998; mirrored dresser, $1,298. [Anthropologie]

Grade: Zzzzzzzz.










Earllier: Pottery Barn, Anthropologie & West Elm: Bedding Porn For Sleepyheads