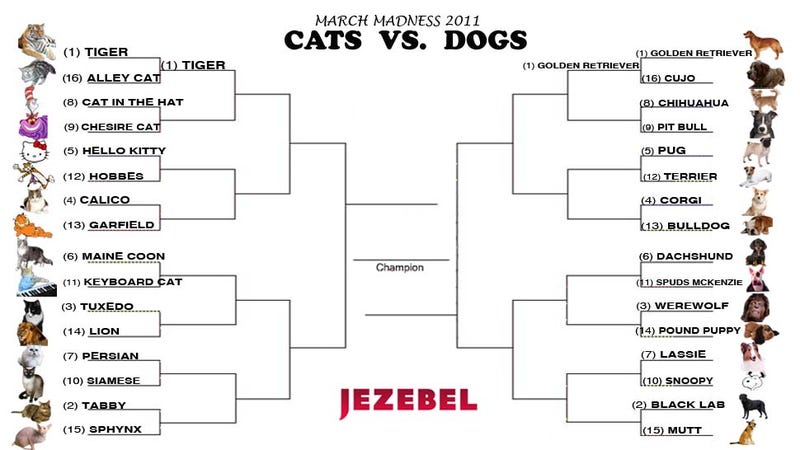 On Day 1 of our Cats vs. Dogs tournament, and we learned that Tigers and Golden Retrievers trounce Alley Cats and Cujo, respectively. The victors have secured themselves a spot in the Elite Eight, but many more warriors must fall along the way. And while yesterday's games predictably saw top seeds prevail over the lowest ranked entrants, today's matchup is guaranteed to be far more intense: Cat in the Hat vs. Cheshire Cat, and Chihuahua vs. Pit Bull. Put on your helmet and body armor, because shit's going to get rough.
For a printable version of the original bracket, go here. Updated version (pictured above) is available here.
Cat in the Hat (8) vs. Cheshire Cat (9)
Were you ever a child? We're going to bet you were (unless you were Amish, in which case we welcome you to the internet). So you know that both of these characters are enigmatic: this will be contest of rhymes and riddles. Will you vote with your head, or your nostalgic heart?


Chihuahua (8) vs. Pit Bull (9)
In one corner, the Chihuahua, a double-edged sword: On the one hand, they tiny and adorable. On the other, Beverly Hills Chihuahua. The Chihuahueño is the smallest dog, but they may also be the most feisty. Across the ring, in the other corner, the Pit Bull lies in wait. Pit Bulls are tough and scrappy, but misunderstood: any temper or viciousness is the fault of the dog's master. To look at the Pit Bull is to look in the mirror. Can you face that? Or do you want something cute to put in your purse?


Polls close at 3pm edt tomorrow. Go hard or go home.