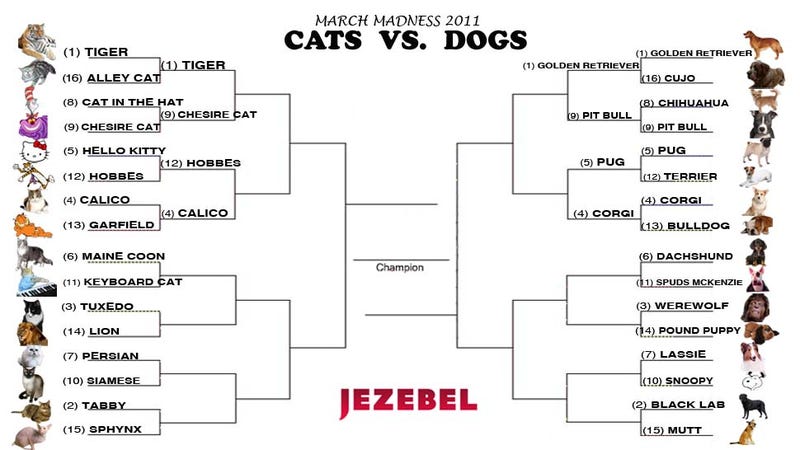 When we last met, we had four tough matches ahead of us. And some of those were particularly intense. Today we've got two more, pitting classic breeds against pop culture legends. Grab your bandaids, because this one's going to leave a mark.
For a printable version of the updated bracket (above), go here. For a printable version of the original, go here.
First, a quick shoutout to the Pug, which triumphed over the Terrier by a mere 46 votes. With thousands of people voting, that's quite the squeaker. Also noteworthy: Hobbes pulled an upset over Hello Kitty (so much for thinking of Japan during this difficult time). Full results available at the link above.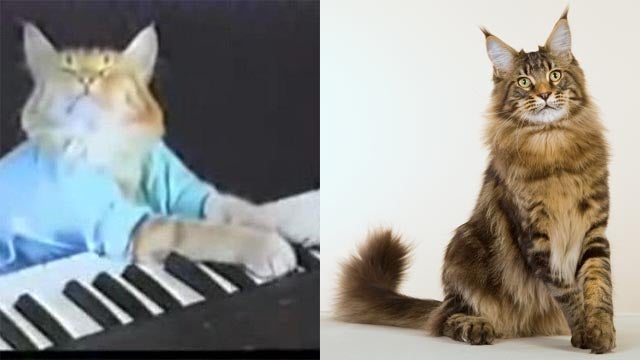 Now it's time to move forward, upward and onward! First up, the Cat Conference: Today sees the sixth-seeded Maine Coon tackle internet legend Keyboard Cat, ranked at no. 11. The giant, gentle fluff of the Maine Coon has won many a heart, but Keyboard Cat has come to define the very essence of YouTube and viral video (garnering some 13 million views). One is sentiment, the other Web 2.0 (which is how we got here in the first place). If there were an upset to be had here, the money's on Keyboard Cat. So what's it going to be?


Meanwhile, in the Dog Conference, we have Dachsund (6) tackling Spuds McKenzie (11). Terrier fans, please note that the iconic McKenzie is a bull terrier. And fans of hot dogs, the dachshund is a snuggly weiner. Beer and hot dogs may go together at the ballpark, but not here, friends. Not here.


Polls remain open until 3pm EDT tomorrow. Vote with your heart.