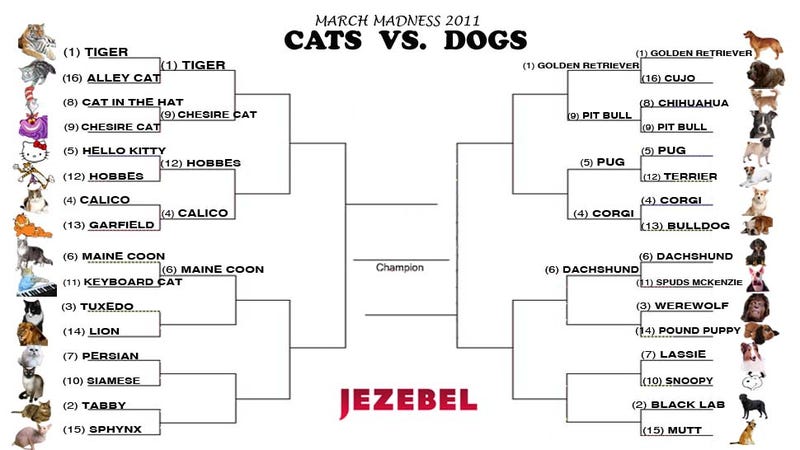 We saw a lot of emotion on the courts yesterday; hearts and guts and sheer sweat. Today promises to be more of the same. Put on your shinguards, because this one's a kicker.
For a printable version of the updated bracket (above), go here. To grab the original bracket, go here.
Before we move on, let's pour one out for Keyboard Cat. While the Selection Committee doesn't endorse any one player over another, we do feel that Keyboard Cat was something bigger than just a cat at a keyboard. No, Keyboard Cat was one of the first viral videos, a feline that foreshadowed the YouTube revolution and, in turn, Web 2.0. In some small way, the Selection Committee owes their careers to Keyboard Cat. Plus, Keyboard Cat was simply talented. But we'll be good sports and respectfully nod our head in the direction of the Maine Coon, that fluffy motherfucker.
And in Dogtown, Dachshund handily won over Spuds McKenzie. Guess you guys aren't Bud Light fans.
Moving on, time for today's competitors!
Tuxedo (3) vs. Lion (14)
Today in the Cat Conference we have the third seeded Tuxedo Cat facing off with the low-ranked Lion. One is cute, common, accessible. The other is the King of the Jungle. Note that Tiger also won its first-round game — if this tourney can handle two big cats, it's because your vote made it so.


Werewolf (3) vs. Pound Puppy (14)
Let's be clear: Pound Puppy, a fixture of childhood bedrooms and obsessive collectors who were perhaps too old for stuffed toys, is no joke. That said, the Werewolf (ultimately a canine, fair and square) is a powerful beast with decades of influence under its belt, from Michael J. Fox to Michael Jackson, Taylor Lautner vs. Alcide. This game is one of snuggles and blood.