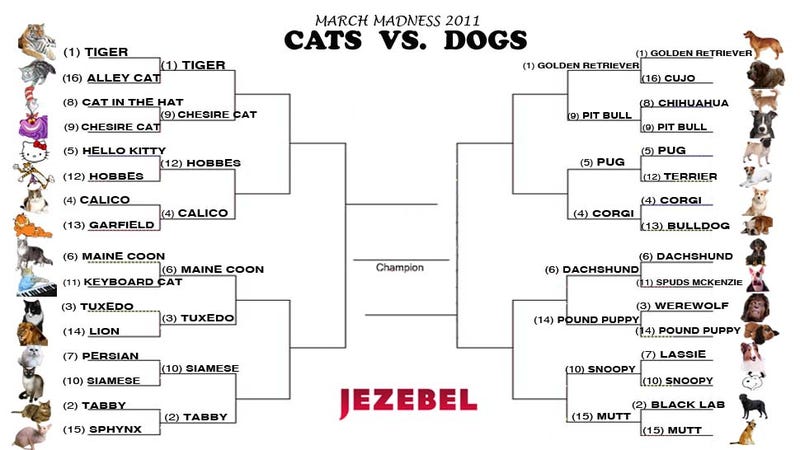 On the first day, there were 32. Two by two, mighty warriors — Lassie, Keyboard Cat, Chihuhua —fell. Now only 16 remain. The stakes get a little higher, the matches a little more intense. Put on your pacemaker, because this will leave your heart racing.
For an updated, printable version of the bracket (above), go here.For the original version, you can print from here.
Before we move ahead, a quick look at what's behind us. The opening round of gameplay ended with a major upset: second-seeded Black Lab fell victim to the classic, lovable Mutt. Meanwhile, Tabby moves forward and Sphynx says goodbye. It would seem that generic lovability trumps a wide range of pedigree. But for how long? Let us see!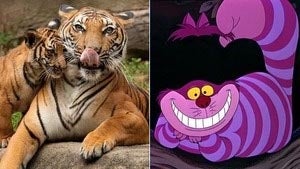 Tiger (1) vs. Cheshire (9)
The Lion having been knocked out in the first round, the noble Tiger represents the big cats. His comrade in stripes is the riddling Cheshire. Expect lots of bared teeth and mixed messages in this match.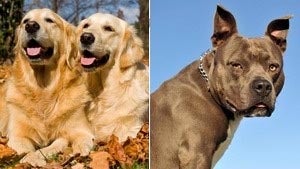 Golden Retriever (1) vs. Pit Bull (9)
This could be a close one. Fans of the Pit Bull will argue that the dog has been unfairly judged; Golden Retriever loyalists will counter that their dog is beyond judgment. But judgment shall be cast, right here and now.


Polls remain open until 3pm EDT tomorrow. But, you know, vote like there's no tomorrow.