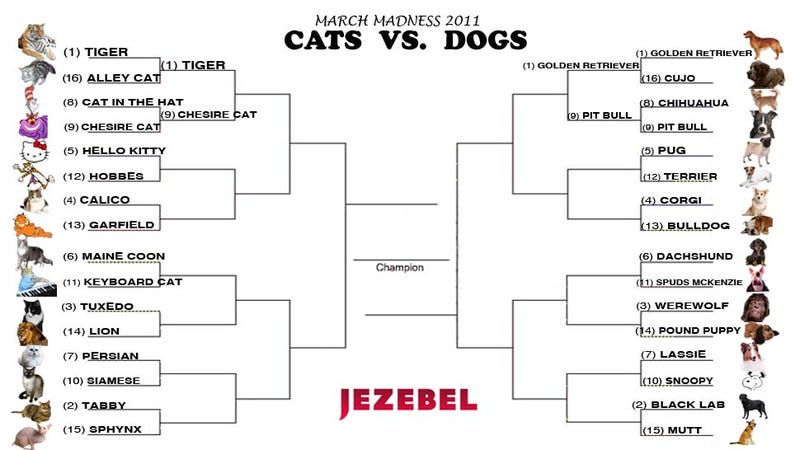 And we're back for more! Yesterday's gameplay was put on hold due to green beer being dumped all over our servers (or something), which means that today we've got double the drama. Grab your band-aids, because these match-ups will cut to the quick.
To print the latest version of the bracket (above), go here. For a printable version of the original, go here.
Last round, we had two minor upsets: Chashire Cat took down Cat in the Hat, and Pit Bull defeated Chihuahua. But let's look ahead:
Hello Kitty (5) vs. Hobbes (12)
In the cat conference, number 5 seed Hello Kitty takes on 12th-ranked Hobbes. Will Miss Kitty, a generic-breed feline that's become the international symbol for pencil cases and kawaii culture, prevail over the high-minded Hobbes, the high-minded tiger who co-starred in one of the best and most beloved comics ever? We'd predict an outright upset, but, well, Japan...


Pug (5) vs. Terrier (12)
Whatever the situation, the pug's expression remains the same — stoic in the face of hardships, "meh" in the face of pretty much everything else. It's a study little dog built on an enviable kind emotional stability. Could the terrier be any difference? There more kinds of terriers than we care to count, but across the board they're the 5 Hour Energy shot to the pug's cup of chamomile.


Calico (4) vs. Garfield (13)
And now we're going to pit the real versus the imaginary. Can an adorably scrappy-looking cat, real to the touch, take down a lasagna-loving 80s icon? Depends on how much you love Italian food, perhaps.


Corgi (4) vs. Bulldog (13)
And finally, the Corgi, a dog fit for the Queen and a weirdly popular internet favorite, faces off with the adorably lumbering bulldog, whose temperament is far sweeter than its face. If you eliminate the web-squee factor, this one's tough to call.


Polls remain open until 3pm EDT tomorrow. Place your bets and cast your ballots now!