Cate Blanchett is on the cover of February's Vanity Fair. Per the brief interview within, Cate the Great is just as you'd think she is: smart, humble, no-nonsense, against Botox.
Ana Gasteyer Satirizes the Girl Boss in 'American Auto'


Sadly, this makes for a rather mundane story. Where are the histrionic broken love affairs and the drug addiction? Pfft, come on Cate, you've got to give us something!. The Annie Leibovitz photos that accompany the feature sure are pretty though!



Here are some excerpts from the interview, including a screenshot of a paragraph that was obviously mangled by Vanity Fair's tech staff, because initially Cate appears to be talking about running the Sydney Theatre Company with her husband, and then the next second she's discussing boob jobs and injectibles without a segue. Anyway. Onward!
G/O Media may get a commission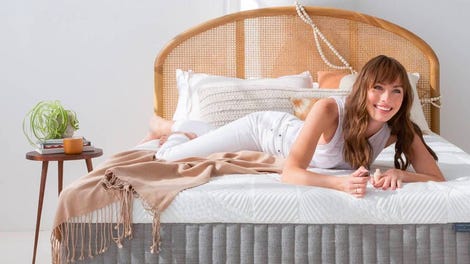 Sleep Sale
Sleep Sale - Brentwood Home
Cate on her dislike of the Hollywood lifestyle:
I don't exist in that world…I observe it, but there's so much else to be thinking about. Maybe it's because I'm with someone who's not with me because of that; I'm not a trophy. He likes the vessel, but he also wants to make sure the vessel is full. The world of film can be so noisy, but the other aspects of my life are actually the noisiest parts of my life. My best friends are a social worker and a visual artist.
Cate on her father dying when she was a teen:
The night of the day he died, I thought, Wow-I'm up so late, and I haven't eaten all day. It's hard to compute something so massive. I just sort of rolled with it. You sort of see it from other people's perspective. I could see that my sister was so young, and I felt it was tragic that she might not remember him. I could see how it affected my brother, who was 11 or 12. I saw what a struggle it was for my mother. I think about my father and how sad it was that he never had grandchildren.
Cate on meeting her husband, Australian playwright, screenwriter, and director Andrew Upton:
It was kind of animosity at first. It was a bit like Beatrice and Benedict.
Cate on being a private person:
We're very private people, but we've entered into running a large state theater company. It's a public position, so when there are certain cultural debates, one can't just hold a personal position; you're expected to participate in that debate. It's quite exposing. I get sick of the sound of my own voice, to tell you the truth. I don't want to ram my opinion down other people's throats. I think I was a bit of a loudmouth in my time at university; I was that cliché, opinionated but not very interesting, ultimately.
Vanity Fair's Web Snafu:

A Hollywood Elusive [Vanity Fair]
Reigning Cate [Vanity Fair]