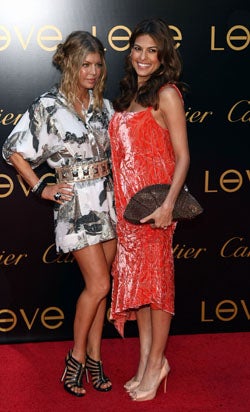 The official name of this event was "The Annual Loveday Celebration and Cartier Love Charity Bracelet Launch." None of which really explains why A-listers like Rosario Dawson, Fergie and Eva Mendes congregated at some "private residence" in L.A. yesterday. (Maybe the bracelets were given out as party favors?) Anyway, a satisfying gallery of good, bad and baffling awaits the intrepid, after the jump.
The Good:


Eve is elegant in basic black.
Let me admit right now that I've always been confused as to when exactly Nicole Richie became respectable. Is it when Rachel Zoe styled her? When she hooked up with Joel Madden? Neither of these things seems like the a passport to elegance, but that's why I'm not an A-lister. Anyway, I really like the caftans she's been working lately.
An unfortunate instance of pee-pee stance, but the simple elegance of Rosario Dawson's Little Black shines through.
I think we can all acknowledge that at times Chloe Sevigny's embrace of the avant-garde can be… Less than flattering. This frock provides interest, but remains wearable.
The Bad:
I think Eva Mendes' coral-colored velvet sack speaks for itself.
I just don't get it. I mean, these women's stylists must bring them, like, multiple options, right? And Fergie put this one on and everyone gasped and was like, "That's it!"?
Kimora Lee Simmons (does she still go by "Simmons?") eschews quiet good taste. Or loud good taste.


Words cannot express the depth of my hatred for this shoe trend. And if there were nothing else horrid about it, it foreshortens the leg of a petite dame like Hilary Duff.



The Ugly:
"The Ugly is kind of like the grand prize," mused a friend of mine the other day. If this is true, Lady Victoria Hervey wins it.
Images via Getty