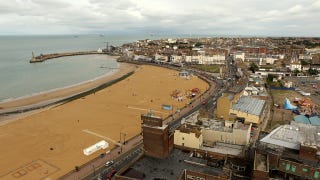 A (quite) young British would-be politician has provided a cautionary tale for all of us: if you plan to run for public office, do not complain about "sluts" on Facebook.
According to the BBC, twenty-one-year-old Payam Tamiz was running for District Council in the English town of Margate (pictured) when his Facebook remarks from last year surfaced. He said he wanted to "settle down with someone decent," but that it was "impossible to find someone with morals and a bit of self-respect." He then added, "It's the ones that look respectable and decent but underneath it all are complete sluts that you got to watch out for."
Tamiz has pulled out of the election and apologized, saying, "I understand my Facebook remarks were inappropriate and unacceptable and I unreservedly apologise for the offence I have caused." And other officials have condemned his comments. For instance, UK Independence Party coordinator Mo Elenor called them "ill-advised and inaccurate." See, Margate women aren't sluts! Now, those London girls...
In all seriousness, Tamiz's Facebook rant shows, if nothing else, that he's not mature enough to hold public office. His statements probably aren't that different from stuff you could find on the page of your average twenty-year-old misogynist, but that doesn't make them right. And it's time for Tamiz to learn that being a douchebag in a public forum can have real consequences.
Conservative Candidate Quits Over Facebook 'Sluts' Slur [BBC]