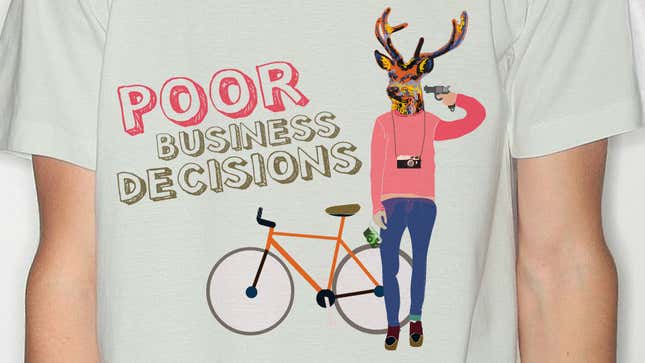 In a weird turn of events yesterday, I got the Urban Outfitters April 2012 catalog in the mail. They had never sent me one before and I haven't shopped there in ages. So okay whatever, I looked through it just because.
Betsy Wolfe Reveals the 'Most Embarrassing Thing That's Ever Happened' to Her on Stage
In an even weirder turn of events, right there on page two I found myself quite perplexed when I landed on the image below.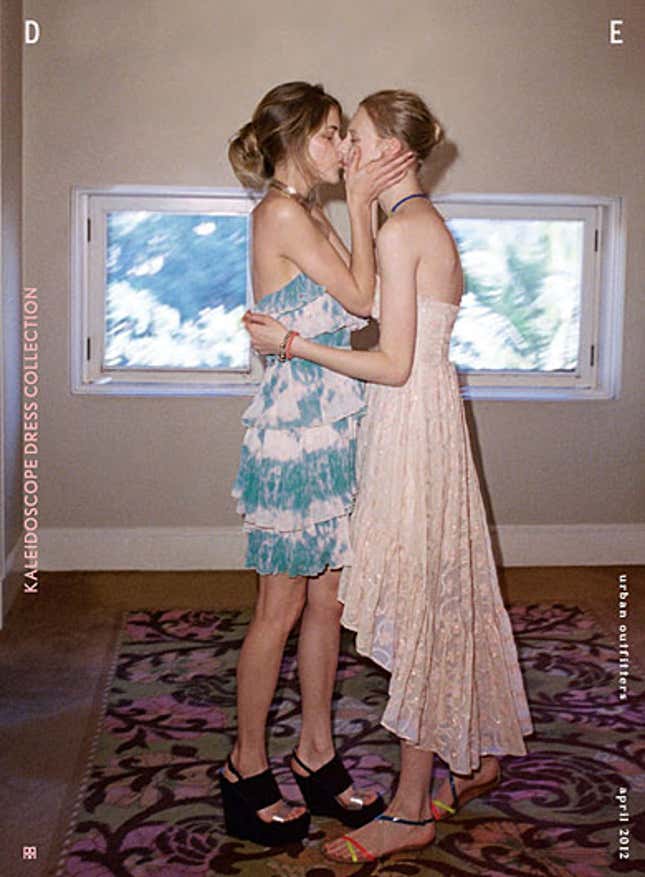 Obviously this is not to say that girls making out is inherently weird, but rather, the photo demonstrates yet another example of how embarrassingly little Urban Outfitters has done to excavate their brand identity, their message, and their location in the industry.
No, this is not the make-out issue. In fact, there is no other kissing of any kind - hetero or homo - in the rest of the catalog. So it seems Urban is testing some waters. Here's a brief history of some other waters they've tested – or as I like to call it - a trip down Urban's minor-to-epic-fuckup memory lane:
2003: UO released a board game called "Ghettopoly", replacing Boardwalk Avenue with Cheap Trick Avenue and Reading Railroad with Hernando's Chop Shop. Other charming areas included: Westside Liquor, Harlem, The Bronx, and Long Beach City, Smitty's XXX Peep Show, and Tyron's Gun Shop.
2008: UO began selling a t-shirt with a young Palestinian guy holding a big horrible gun with the word "Victimized" emblazoned across the front. This came after Urban sold an "Everybody Loves a Jewish Girl" t-shirt in 2004 (surrounded by dollar signs and shopping bags). Urban ended up pulling the gun shirt from their shelves.
Late 2008: They got into more shelf-pulling when they released an "I Support Same-Sex Marriage" t-shirt, then withdrew them a week later when a buyer cited "too much bad press" as the reason.
2011: But hmm guess what? Two years later, UO president and founder Richard Hayne donated upwards of 13K to Rick Santorum, the most disgustingly homophobic man on earth.
2011: Hailey Clauson, a then 15-year-old model, filed a $28 million lawsuit against UO, claiming that they illegally published a salacious photo of her on one of their t-shirts without her knowledge.
Late 2011: The Navajo Nation filed a lawsuit against UO after they released several products bearing the tribe's name, like the "Navajo Hipster Panty" and "Navajo Flask". Urban ended up changing all Navajo-named products on their website like thieves in the night, and the PR dude played the "nobody told me" card.
UO sold hats depicting drunk/vomiting Irish stick figures, t-shirts encouraging girls to "Eat Less", they've stolen designs from independent artists, and it seems the list of Urban's fails and flails only continues to grow.
Not surprisingly, their financials have followed suit on the instability-front. Though in January of this year it seemed that the company, which owns the Urban Outfitters, Free People, and Anthropologie brands, had experienced net income falls for the past four quarters, their sales were low, and they had fallen short of their projections. In March, however, it was reported that their total company net sales had increased 9% over the prior year. Either Free People and Anthropologie are picking up the slack, or Urban Outfitters is getting by, thanks to the apathy (and trend-blindedness) of consumers.
So what about this girl kiss? Upon first glance, this image can be stretched to imply a tender (albeit strangely awkward) same-sex wedding kiss – the white frilly dress, the carefree and tousled hair – could it be that Urban Outfitters is sending a message in support of gay marriage? Is it possible that the notoriously homophobic corporation is in the midst of a PR turnaround mission, and is attempting to assure girls that they're not just a gay-hating, bigoted institution, but that same-sex love is just as good?
Unfortunately, I think this photo belongs in the file with every other heteronormative image Urban has ever released. Because really, what's more hetero, and dominated by the male-gaze in the media, than two pretty girls going at it? A study at Northwestern University found that "heterosexual men were more aroused by depictions involving lesbian sex than they were by depictions of heterosexual activity, while heterosexual and lesbian women were aroused by a wide range of sexual stimuli".
Yeah so what about the women? This is a catalog for women – and I'm going to guess mostly straight women at that. I believe it's fair to assume that Urban is banking on attracting straight women with this kiss because they know that all straight women know that girl-on-girl always gets a hetero-dude's attention. Further, one might argue, that's the same reason straight girls shop at Urban Outfitters…attention. Too much?
Well regardless, I think it's safe to assume that this image isn't attempting to broadcast a pro-gay-marriage message (or really a pro-gay or pro-women anything for that matter). So that begs the question: What the fuck is Urban Outfitters trying to say? Ever?! What language are they speaking and to whom are they speaking it? Have they even thought about that?
Urban Outfitters is at a juncture, and believe it or not, I think their image is still salvageable, should they choose to face the issue.
Hey Urban, I'll give you some advice on the house: First, decide if you're willing (read if Richard Hayne is willing) to squash the quandary of a conservatively-owned company, and put personal politics aside to effectively appeal to your demographic. Confused about who that is? THEY'RE FASHION-MINDED YOUNG PEOPLE. Duh! I know we're a confusing bunch, but I'll pass along some general guidelines regarding our dislikes: We don't enjoy being offended, made fun of, lied to, getting ripped off, mixed messages, or being ignored. Unless it's Karl doing the offending.
So maybe, if you care to rectify the mess you've made, you should publicly acknowledge how very very shitty you've been in your politics, and how you plan to change moving forward. Tell us you're clear about where you've been, and you're even clearer about the nice, accepting, happy place you're going.
If you do not do this, ambiguity will be the death of your brand, and I know many clothing and lifestyle companies who would be more than happy to bury you.
---
Mihal Freinquel is a writer and blogger living in New York City.


Image by Jim Cooke.