Now that Robin Thicke's latest album, Paula, has officially belly flopped into the pool of disappointment, the question teetering on the pop culture precipice is whether or not he'll be able to pull off a comeback. Because let me tell you, homeboy has a loooong way to go.
Aside from not understanding what the word "romance" means, Thicke's biggest issue seems to be that he was unable to deal with the swing from one extreme to the other. Before Blurred Lines he was either that white R&B singer who was married to that pretty black actress whose name you had to pause to remember, or the real son of one of America's favorite TV dads who also maybe sings.
Did you know that Robin Thicke released five albums before Blurred Lines? Probably not. Before he hit us with the most ubiquitous song of 2013, Thicke had largely toured as the opening act for artists like Beyonce and John Legend and co-headlined tours with India Arie and Jennifer Hudson.
His 2011 album, Love After War, debuted at number 22 on the Billboard 200 with 41,000 copies sold. Blurred Lines debuted at number one selling 177,000 copies in its first week. His most recent album slash lame ass attempt at gaining publicity saving his marriage, Paula, debuted at number nine on the chart but sold only 24,000 copies.
That sudden rush of popularity was new to Thicke and he naturally proceeded to act a damn fool, as USA Today explains:
So where did Thicke go wrong? He's had "the perfect storm of terrible things to happen to him and things he did that were poorly perceived," says Keith Caulfield, Billboard's associate director of charts/sales — including his infamous MTV Video Music Awards performance with Miley Cyrus in August, an Instagram post where he appears to be groping a fan, a Twitter Q&A in which Thicke was flooded with accusations of misogyny and the fact that he hasn't yet got Paula back (their Bel Air home went on the market last week).
G/O Media may get a commission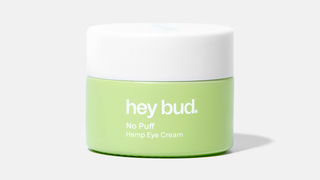 15% off
Hey Bud - No Puff Hemp Eye Cream
Unlike the defense USA Today employs, I would argue, using logic and my eyes and ears, that Thicke did that all to himself. He chose to look like a clown onstage with Miley Cyrus. He decided it was cool to grope a fan. And he was actually being pretty misogynistic, hence the accusations of misogyny.
At this point, one thing is clear: he ain't getting Paula back —something the entire world has been trying to tell him since he revealed the name of the album. Hopefully Thicke can now cut his losses and move on.
But is it possible for Thicke to recover from such an onslaught of bad press?

"Of course," Drew says. He advises that Thicke step out of the spotlight for a while, enlist some top-notch collaborators for his next album and be more press-friendly his next go-around.
For all the issues I had with "Blurred Lines," that song was the jam (before it got overplayed). Good material goes a long way in helping people forget your personality. It's not even like Thicke has done something criminal or truly unforgivable—as far as we know. He largely just came off as a giant skeezebag who was trying to cling to fame.
So some advice for Robin: go make some good music—and take more than three weeks to record it this time. Also, lose that douchey sunglasses on the red carpet look. You ain't Prince.
Image via AP