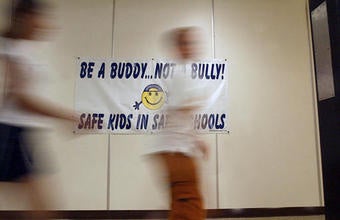 An Associated Press review of anti-bullying laws across the nation revealed they are largely ineffective. Several recent child suicides have spurred a push for stronger laws, but is it possible to police something that can be as subtle as eye-rolling?
Forty-four states have specific anti-bullying laws, which were largely created as a response to the school shootings in the 1990s, but few of the laws include any method for making sure the laws are enforced or have ever been used to stop students from harrassing others, according to the AP.
Parents are now pushing for schools to take stronger action against bullying in light of several children under the age of 12 committing suicide earlier this year, in incidents some claim involved bullying. The AP reports that in mid-April,
Sirdeaner Walker found her son Carl hanged in her Springfield, Mass., home. The 11-year-old had complained of teasing almost immediately after arriving at his new charter school, she said.

Parents in Illinois likewise pointed to bullies after three suicides there in February: a 10-year-old boy hanged himself in a restroom stall in a suburban Chicago school, an 11-year-old boy was found dead in Chatham, south of Springfield, and a father found his 11-year-old daughter hanged in a closet of their Chicago home.
Though Georgia has one of the toughest bullying laws in the country, the parents of 11-year-old Jaheem Herrera, who committed suicide in April, insist the school didn't do enough to stop him from being harassed by his peers (the state law wouldn't have applied anyway since Herrera was in fifth grade and it only applies to grades six through 12.) Other Georgia parents came forward after the boy's death alleging that they'd complained about their children being bullied but schools did nothing.
Brenda High, who started tracking anti-bulllying laws on her website Bully Police USA after her 13-year-old son committed suicide in 1998, says there should be consequences for schools that ignore bullying complaints:
"It needs to be written into the law that bullying has the same consequences as assault," she said. "The records and such need to be kept so that if the child is a chronic bully, they - after so many instances - will end up in an alternative school."
Though Georgia's law actually does say that state funding will be stripped from schools that fail to take action after three incidents involving a bully, no school has ever lost funding because the schools don't collect data on the incidents. Very few states require schools to gather or report data on bullying.
Part of the problem is that it's hard to define what constitutes bullying. According to the National Center for Education Statistics, in 2007 nearly a third of students ages 12 to 18 said they had been bullied, meaning the problem has been getting worse in recent years. Though it's possible children are just more willing to report incidents, they say they're experiencing more teasing, spreading rumors, and threats, which are hard for schools to identify and prevent. Officials in DeKalb County, Georgia, insist they found no evidence Herrera was being bullied before he killed himself. Dale Davis, a spokesman for the school district says:
"One of the questions is how do you quantify bullying? It could even be as simple as a rolling of the eyes."
Though everyone has been teased at some point and can imagine how debilitating it is for chronic victims, research suggest people need to identify more with bullies. Last month researchers at Indiana University found that most students see people as either "bullies" or "non-bullies" and then ignore anti-harassment messages if they generally label themselves as non-bullies.
The fact that bullying is so common also makes some people treat it as an unavoidable, but fairly innocuous aspect of childhood. On Friday Laurie Taylor wrote a column for the BBC about how as a boy he and his classmates used to harass one a student named McNulty because he was a know-it-all. He concludes that it all turned out alright because McNulty went on to have a successful career as an MP and commenters were angry that Taylor was so glib about bullying. But Taylor doesn't mention any specific interaction with McNulty, and it seems he only went along with pranks like leaving library books on his desk or chuckled when everyone in the class told a new teacher his name was "McNulty."
Though obviously there are some students who habitually and severely harass a particular student, most of us have had a McNulty in our classes and stood by or even participated as they became the butt of every joke. Clearly, enforcing existing laws would help combat the most obvious forms of bullying. But putting an end to the torture that so many children experience every day would require every student to make a conscious decision to stop bullying, which is much more difficult than just cutting funding or transferring certain students to alternative schools.
AP Enterprise: Bullying Laws Give Scant Protection [Associated Press]
My Life As A Bully [BBC]
Earlier: Takes One To Know One