Anna Faris may not be as recognizable as Tina Fey, but she just might be the next great female comedic actress. It seems strange then, that Faris's latest turn is in The House Bunny, the tale of a disposed Playboy bunny who finds a job (and a home) as the den mother of a nerd-filled sorority, where she gives makeovers and lessons in flirting. You can understand why some are disappointed in the film — it is incredibly derivative, taking cues from Legally Blonde (whose writers also wrote this film's script), Revenge of the Nerds, and Mean Girls but missing all the comedic cues. And though the film is one of the few comedies this year written by women and starring a comedic female lead, the only "empowerment" that the characters go through involves a makeover. Still, say reviewers, its saving grace is the unflappable Ms. Faris. Read the reviews after the jump.MSNBC:
"Legally Blonde" scribes Karen McCullah Lutz and Kirsten Smith try desperately to rekindle the magic of that earlier triumph-of-the-bimbo classic, but "House Bunny" lacks the pop of a smart comedy. Characters completely change at random, misunderstandings are inflated to catastrophic levels, and the sputtering narrative has that feel of a movie that's been extensively re-edited past the point of all coherence. No surprise, then, that the director behind this mishmash is one Fred Wolf, who made his behind-the-camera debut with "Strange Wilderness," which remains as of this writing the very worst film of 2008. There was nowhere to go but up from there, granted, but "House Bunny" doesn't make the case that this man should be allowed within 25 yards of a movie camera. Watch the trailer on YouTube, and you're done.
It's essentially a female remake of Revenge of the Nerds, with a script from Legally Blonde writers Karen McCullah Lutz and Kirsten Smith. Faris functions as a descendant from a long line of supposedly dumb blondes, but she's so unafraid of going for the big, goofy laugh that she makes this familiar role her own.
The movie gently mocks the Playboy ethos while portraying Hugh Hefner as a defanged old softie and Faris is often charming. She has one hilarious trick that shows how far she will go for a laugh - in a good way. While Faris' comic fearlessness is a major asset, the movie tries to soften its edges with an obvious message -"be yourself" - that comes across as heartfelt and sincere as a centerfold's list of turn-ons.
G/O Media may get a commission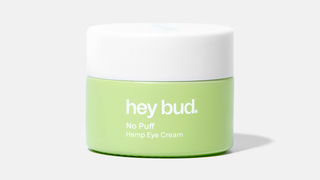 15% off
Hey Bud - No Puff Hemp Eye Cream
It might wear its derivative, "Legally Blonde"-meets-"Mean Girls" trappings like a rhinestone thong, but strip away the second-hand attire, and "The House Bunny" still manages to stand on its own two skyscraper heels thanks to the comic force of nature that is Anna Faris.
It's a little stroke of genius: Make a female-empowerment movie and cast it with Playboy Bunnies. Elevated via a strong script by "Legally Blonde" scribes Kirsten Smith and Karen McCullah Lutz, "The House Bunny" is a blissfully broad comedy that should catapult Anna Faris into a singular kind of stardom — she's funny, she's sexy, and her movie distinguishes itself grandly from a mostly gore-and-groin-fixated summer comedy season. Titles are sometimes dumped in mid- to late August, but good buzz could help this Fred Wolf-directed laffer break out beyond its young-femme target audience.
All hail Anna Faris, fake bimbo par excellence, master of the birdbrained double take, our reigning queen of intelligent stupidity. On the sneaker-clad heels of "Smiley Face," an inspired stoner farce from 2007, come the plastic stiletto shenanigans of "The House Bunny," a breezy, ditzy comedy about the misadventures of a Playboy bunny exiled from the chinchilla cocoon of Hugh Hefner's mansion.
Directed with little distinction by SNL vet Fred Wolf, The House Bunny operates on a skin-deep level and offers up the predictable inner-beauty message: As Faris turns her fugly charges into superficially gorgeous, judgmental twits, she finds her own slutty charms at a loss to woo the smart, dorky-cute man of her dreams (Colin Hanks). The screenwriting team of Karen McCullah Lutz and Kirsten Smith are rather shamelessly aping their own Legally Blonde here, but they've given Faris some great ditzy one-liners and a few slapstick pratfalls worthy of Olympic gold. The movie basically exists on one plane, while Faris is on another-that exclusive aerie occupied by Judy Holliday, Carole Lombard, Lucille Ball and a few other blissfully original comedy goddesses.
I don't want to even think about what all this means as a feminist allegory. Like Grease and The Breakfast Club, The House Bunny all but announces that lip gloss and tarty outfits pave the way to female self-actualization. And unlike those movies, it doesn't make the makeover process look particularly fun (though I did love a mascara-tutorial scene in which Shelley lectures the girls, "Remember, the eyes are the nipples of the face"). The Zetas-played by an odd lineup of newcomers that includes American Idol contestant Katharine McPhee and Rumer Willis, Bruce and Demi's daughter-go from stereotyped losers to stereotyped hotties with logic-defying speed (and making McPhee's character visibly pregnant without providing any back story is a tad disconcerting). But there's real pathos to a scene in which Shelley trots out all her porn-based seduction tricks on a date, only to discover that she's grossed out her man and made a fool of herself. The House Bunny can go only so far in satirizing the Playboy empire though, since it's clearly been approved by Hefner (who plays himself in scenes that take place inside the real mansion). But its founding premise-that the laws of soft porn translate poorly to the real world-is as close to a female empowerment message as you can expect in a movie like this.
'The House Bunny' opens today in wide release.
Related: Interview with Anna Faris in T Magazine [NYT]