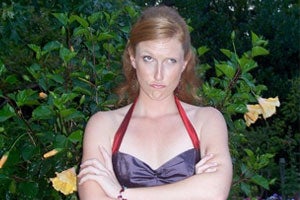 So not only did you get to fork over hundreds of dollars for a shower, a plane ticket, and a fancy wedding gift, but you also had the privilege of overpaying for a tacky dress you'll never, ever wear again. Ah the joys of being a bridesmaid.
Well, we've been there too, and knowing how much it sucks, we'd like to help you out a bit. Send us your pictures of the hideous dresses you've had to wear in the past and we'll cover the cost of that terrible frock, leaving you free to worry about finding the bar and landing that dreamy groomsman.
Send all submissions to contests@gawker.com no later than 2 PM Tuesday June 2nd for consideration. And don't miss the season premiere of Bridezillas Sunday June 7th to watch what can happen to a woman somewhere between "will you marry me" and "I do."