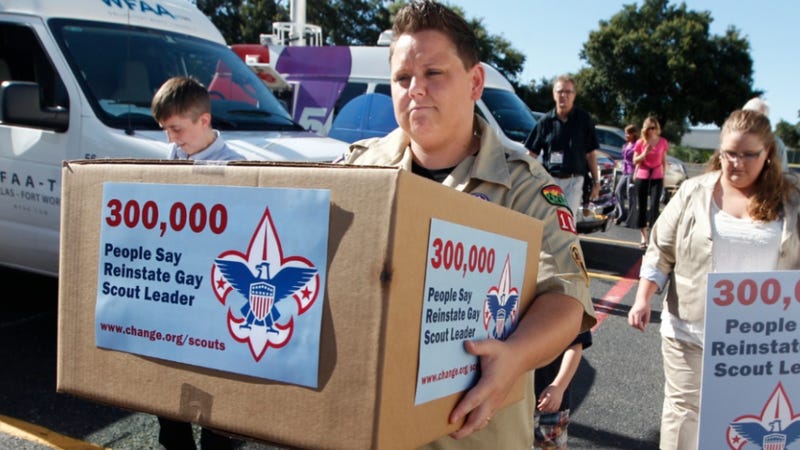 The California Senate passed a bill called the Youth Equality Act on Wednesday, at 27-9, that would strip the Boy Scouts of America within the state from its current nonprofit status, stating that the group continues to discriminate on the basis of sexual orientation. Although the Boy Scouts voted to allow gay scouts lost week, the ban on gay leaders within the group has yet to be lifted. The group's exclusion of gay adults from participating is the main reason California lawmakers believe the BSA's decision didn't go far enough.
Here's what Sen. Ricardo Lara said on the Senate floor:
"4H and the Girl Scouts don't discriminate. They don't exclude LGBT or leaders just because for the simple fact of being who they are. Being the person God made them. Neither do the Boys and Girls Club, or the YMCA. Now, besides being the right thing to do, under current law, these groups' inclusiveness and commitment to equality make them eligible to tax exemptions, exemptions supported financially by all Californians. At the other end of the spectrum, we have the Boy Scouts of America… an organization with a central flaw so profound that until it is fully fixed, it means that they are out of line with the values of California and should be ineligible for a tax benefit paid for, again, by all Californians."
If signed into law, the bill would force the Boy Scouts to pay the state taxes, effectively causing Boy Scouts to pay taxes on membership, donations, and fundraising activities.
[HuffPo]
Image via Getty