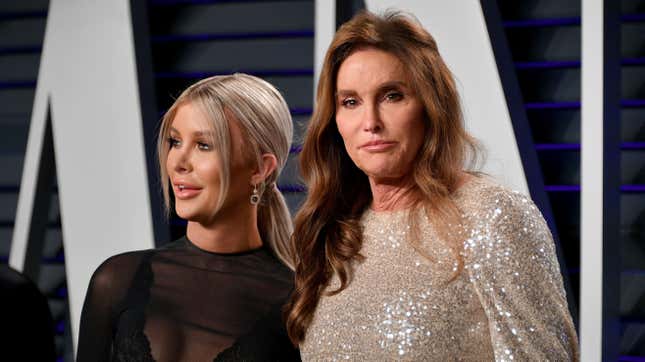 It honestly makes sense that Caitlyn Jenner would be the most visible trans woman in America. I mean, who better to represent us in this thoroughly rotted nation than a Republican multi-millionaire who used her proximity to the greater trans community to cosign an increasingly totalitarian government hell-bent on doing us harm simply because it happened to benefit her personally? If that's not American, I don't know what is!
Anyway, it looks like ol' Ceej is about to get even more visible. TMZ reports that Sophia Hutchins, Jenner's 24-year-old live-in confidante who swears they're not dating even though it really seems like they're dating, is in talks with Bravo to fill one of the many inter-seasonal vacancies left open on the Real Housewives of Beverly Hills, one of which might also get scooped up by Kathy Hilton, a.k.a., Paris and Nicky's mom and Kyle and Kim Richards' sister.
Jenner's reportedly really enthusiastic about Hutchins getting a grapefruit, or whatever it is the RHOBH castmates hold in their promos, because that would allow her to angle for a "friend of the housewives" for herself. I hate this, but also this is honestly what America deserves. Abolition now!
---
Pour one out for the scrapped alternative album Mariah Carey was apparently working on in tandem with 1995's Daydream.
---
British model and trans rights advocate Munroe Bergdorf says that she no longer wants to use the phrase "born in the wrong body" to describe her experience as a trans woman.
Speaking to Mermaids, the continually besieged British nonprofit that advocates for the needs of trans and gender-nonconforming kids, Bergdorf explains why she now finds the phrase "unhelpful," even damaging to herself.
Per PinkNews:
I've come to understand why the phrase 'born in the wrong body' is unhelpful to me. I know why I used to use it; because other people struggled to understand, but looking back I know it did me harm. Saying you have the wrong body feels like a kind of self-abuse, and it's not the same as saying 'I need to adjust my body to be my true self.' That's a different thing. We only get one body, and it's really important, especially for younger people to know they are unique and beautiful. I would say to younger people that transitioning is hard so you need to look after your body, love it and respect it.
---