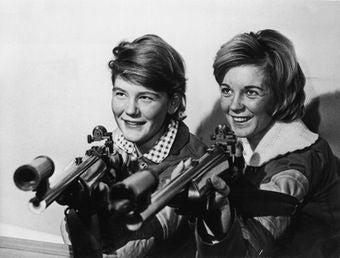 Women are rising in two very different, two very macho arenas: Seafaring and hunting.
Although as of 2003, only 1 to 2% of the world's seafarers were female, the Women's International Shipping & Trading Association (WISTA) reports a 40% increase in membership in the past two years, which may reflect a general increase in the number of women taking to the water. There are no global figures for the number of women ship commanders or officers, but people familiar with the industry say the number is increasing.
Not surprisingly, women are often discouraged from following this path. Capt. Sherri Hickman is a Houston ship channel pilot who used to work as an officer on ships with U.S. government cargo. She recalls returning to her Pennsylvania high school for career day, where she gave a talk about her work. Her lecture was labeled "Men Only" on the program. "Even today, women don't even realize the field is there," she said. "They normally feel like: 'I didn't know they let women do that.'"
"In the old times, men thought that this job cannot be done by a woman. Before, they believed a woman on board brings bad luck," adds Bianca Froemming, a German ship commander. "it is harder for a woman. You have to show more on board, you always have to work harder than a man to become higher in rank." Froemming is one of only five German female commanders on merchant vessels, out of a total of 1,400. This may seem like a tiny percentage—it is a tiny percentage—but the fact that Froemming has managed to rise this high in the ranks is laudable.
Women are also trying their hands at another male dominated activity: Hunting. The overall number of hunters in America has fallen in the past few years, but the number of women picking up the weapons has only increased, reports Northwest Public Radio. The Idaho Fish and Game Department has welcomed the influx of women interested in game hunting by holding women-only "new hunter" workshops.
Women of all ages have signed up for these classes. There are hunters from different skill levels as well: Jean Spencer reports that this is "going to be my first year" hunting elk, while Colleen Trese says she's been hunting for 12 years, but only smaller animals. This will be her elk season as well. Trese says she first got into hunting from her work, "being a wildlife biologist. My family doesn't hunt, but I've hunted with people that I've worked for. That's kind of how I've been learning." Others, like Spencer, were roped into the sport by their husbands or brothers. Class instructor Julie McKarley has been hunting all her life. For her, hunting is a family activity. "I got mine. My mom got hers and my dad got his, all in one day," she says of last season. "And it made for this great family outing. My mom has lots of pictures of it and she says that's one of her best memories of going out on this elk hunt and camping out with us and having a great time."
Hunting and shooting instructor Jeanie Elias says she also seen more women in her classes. She claims women are often better hunters than men because they focus less on the trophy and more on the food. "They don't have this idea of 'I got to have this perfect rack on my wall,'" she says. "When I go hunting, I'm not looking for the perfect rack on a deer. I'm looking for meat."
Women Rise In Seafaring Ranks [AP]
Women Play A Growing Role In Hunting [NWPR]