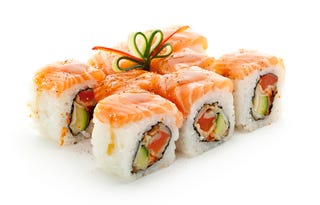 Bloomberg's Max Abelson asked some Wall Street execs how they weathered Hurricane Sandy.
They drank (very) fancy wine:
"I had to go to the wine cellar and find a good bottle of wine and drink it before it goes bad," said Murry Stegelmann, 50, a founder of investment-management firm Kilimanjaro Advisors LLC.
His wine of choice? A $999.99 2005 Chateau Margaux.
They ordered (!!) sushi:
Pablo Salame, 46, one of three Goldman Sachs Group Inc. (GS) executives who oversee sales and trading, ate better. He posted a picture of 21 pieces of sushi on a Twitter account in his name on Oct. 29. "Only in NYC, Seamless Sandy sushi delivery in TriBeCa, Monday 730 pm," the post said.
They sympathized with Katrina survivors:
Sean Gambino, who trades consumer stocks for Schottenfeld Group LLC, said his South Street Seaport neighborhood was "ruined" by a storm surge. He wrote instant messages because his phone wasn't working.

"I now know what people feel like when you see them on TV and see their whole worlds just wiped away," Gambino wrote. "Cars were just all over."

His apartment's lobby and basement were flooded.

"Think Katrina, but now it's us," he said.
Repeat: this is not an Onion article.
Image via svry/Shutterstock.