A new documentary called Burt's Buzz gives viewers a look at the life of the founder of Burt's Bees.
The company's evolution from a grassroots business to a multimillion dollar division of Clorox is fascinating, as is the story of Roxanne Quimby and Burt Shavitz, the people who co-founded it. But, as Biggie Smalls warned us years ago, with more money come more problems. Here's a bit of back story on their growth and the resulting internal turmoil via The New York Times in 2008.
[Mr. Shavitz] lost out on a huge payday. In 1999, Ms. Quimby bought out his one-third share in Burt's Bees by buying him a house in Maine. Much grander than a turkey coop, the home cost $130,000, Ms. Quimby says. She now calls that figure "embarrassing" considering how much she made from the company.

Mr. Shavitz did not respond when asked if he hired advisers to determine whether he had been paid a fair valuation for his stake. He sold the house in Maine a few months after Ms. Quimby bought it for him because, she says, he missed his turkey coop. (He has since enlarged it to about 12 feet by 20 feet.)

By 2000, Burt's Bees was pulling in $23 million in revenue, according to the company. Ms. Quimby said she had always intended to sell the company and had received offers for quite some time before she put it up for auction in 2003. That year, AEA Investors, a private equity firm in New York, paid Ms. Quimby $141.6 million for an 80 percent stake in Burt's Bees. If Mr. Shavitz had held onto the stake he traded to Ms. Quimby for $130,000, it would have been worth about $59 million.
At the time of that deal, Mr. Shavitz demanded more money and Ms. Quimby said she agreed to pay him $4 million. Burt's Bees also pays Mr. Shavitz an undisclosed amount each year for using his name and image on its products. Through a Burt's Bees spokeswoman, Mr. Shavitz declined to comment on any payments he had received or the reasons for his fallout with Ms. Quimby. When asked if he and Ms. Quimby were still friends, Mr. Shavitz said, "Sure."
"What happened between us in our personal relationship in the past is history," he said via a statement released at the time. "The magic of living life for me is, and always has been, the magic of living on the land, not in the magic of money."
Now, a new documentary seeks to learn more about Shavitz's life, before and after become the face of one of the most successful beauty product lines in history.
Via Time:
Shavitz, a Mainer who has led a life that's nothing if not unusual, is the subject of Burt's Buzz (in theaters and VOD June 6), a look at the life of the man who started it all. He's been a photographer, a journalist, an environmentalist, a beekeeper — and, apparently, an icon. In fact, it was hearing about what had happened during Shavitz's prior business trips to the area and an upcoming trip to Taiwan, where Shavitz was traveling as a spokesperson for the brand, that convinced Shapiro to turn his lens toward his subject. "I'd heard about the screaming girls at the airport and I'd heard about the lines around the block, and I thought that would be a perfect opportunity to go deeper into the story," Shapiro tells TIME. Even so, his expectations for a celeb-worthy reception were exceeded.
To Shavitz, however, being a celebrity is neither here nor there. He guesses in the film that part of the reason he gets such enthusiastic responses from fans of the product is that it's unusual for a picture on a tube of face product to be of a real guy. But the moment that was caught on film was just one of many for him, and it's been going on for years. "All the world's a stage," he tells TIME. "I never stopped to think about it. It was immaterial as far as I was concerned."
G/O Media may get a commission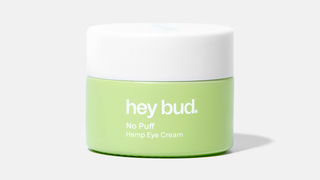 15% off
Hey Bud - No Puff Hemp Eye Cream
For those still wondering if Shavitz is really worthy of his own documentary film, check out the video at Time which features him being mobbed by fans in Taiwan.
About ten years ago, film producer (and my old boss) Michael Caplan and his wife Suzanne gave me one of the best presents I have ever gotten in my life. It was a sampler of Burt's Bees products. I became instantly obsessed with the entire line. I used the products so much Caplan nicknamed the office where I worked "The Beehive" because of the smell of Burt's Bees products that would meet anyone who opened the door. I'm pretty interested to see what the film's all about because like many people, I'm a longtime fan and user of the product who has always silently side-eyed some of the changes that occurred to the line as it grew in popularity.
Burt's Buzz opens on Friday in select theaters and via on-demand.
Image via Burt's Bees.