This photograph, of a young, screaming girl running through the streets, her skin burning from napalm, has become one of the most iconic images from the Vietnam War. Recently, the subject of the photo spoke out about her long recovery.
Kim Phuc Pan Thai was only nine when she suffered burns on most of her body from a napalm attack. "I should be dead," she told a conference of burn survivors and burn care specialists, HealthDay reports. "Sixty-five percent of my body got burned." The third-degree burns that covered her back and left arm fortunately left her face untouched, but resulted in a mass of permanent scars and recurring pain. Phuc had to undergo many skin grafts, taken mostly from her legs, in a total of 17 operations. "But I was spared," she said.
She was also saved, brought from the streets of Trang Bang to a hospital in the American-funded Barsky Hospital in Saigon by the same man who immortalized her suffering, Associated Press photographer Nick Ut. Like Phuc, Ut's life was irreversibly altered on that day in 1972. Still at work with the Associated Press (snapping pictures of Paris Hilton and the like), he believes his photograph of Phuc is the best he will ever take. "It's a strange feeling... I know I will never take another photograph that's as good as this - not as long as I live."
Phuc says she remembers the events of June 8th, 1972, like it was yesterday. Phuc was hiding in the village temple grounds when she heard the sound of bombs. "After I saw the fire everywhere around me," Phuc said. "I was so scared. And all my clothes just burned off by the fire. And I saw all my burns. And people screaming: 'Nong qua! Nong qua!' 'Too hot! Too hot!'"
G/O Media may get a commission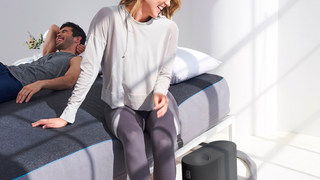 Eight Sleep Pod Cover
Phuc is now 46. She is a public speaker, peace activist, United Nations Goodwill Ambassador, child welfare advocate, and married mother of two. She still suffers pain from the damaged nerves on her arm and back. But she says she considers the pain "protection. It humbles me, and helps me never to take my life for granted, and to share my story."
Girl In Iconic Vietnam War Photo Brings Message Of Hope [HealthDay]
Earlier: Paris Hilton: The Kim Phuc of 2007, Kim Phuc Photographer Nick Ut: "I Suppose The Big Difference Is That... Frankly, I Don't Give A Damn About Paris Hilton"