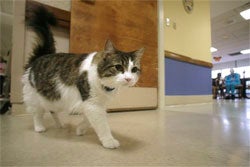 Nursing-home kitty Oscar the Cat (aka 'The Grim Reaper' of felines) is predicting nursing-home deaths at a facility in Rhode Island with almost 100% accuracy. [Breitbart]

We find it hard to feel the same empathy we had for the whales and the dolphins for the giant squid invading California with impunity. [USA Today]

Bunny rabbits invading Pennsylvania, however? Adorable. [Breitbart]

No more smoking in Disney movies aimed at families! And smoking discouraged in Miramax and Touchstone (Disney subsidiary production houses) films aimed at adults! Meanwhile, half of your Jezebels remain proud smokers. [BBC]

Joni Mitchell + Starbucks = Our hearts being sad. [E!]
German actor Ulrich Muehe, so brilliant in this year's The Lives of Others died yesterday of stomach cancer. He was 54 years old. [BBC]
Contempt citations! Mmm - tasty! [CNN]
The Taliban: Not so patient, it turns out! [CNN]
Bob Barker may no longer be the host of The Price Is Right, but his plea to have your pet spayed or neuter shall remain. [USA Today]
5 U.S. casualties identified today.