If you're like me, during the winter months, it's miraculous if you dress yourself, much less leave the house for something not medically necessary. Your workout playlist becomes tiresome, like dog pee saturated snow in a gutter. Let's fix this.
I made the perhaps-misguided decision to run in my second marathon this June, and while my training schedule hasn't yet started to take over my entire fucking life, I'm still putting in a fair number of miles every week. Listening to the same shit every day gets boring, especially on those dreaded days when it's too cold or snowy to safely run outside and I'm relegated to the treadmill, and finding new music is time consuming. You have to listen to a lot of crap before you find something you like, and who wants to spend hours listening to crap?
That's where you come in, dear readers. If we combine our ipods into one superplaylist, we could possibly build a workout playlist so awesome that not even the coldest, snowiest, crappiest day can keep us from working toward whatever fitness goals we've set for ourselves.
Fair is fair, and since I'm asking you to mine your playlists, here's a sampling of the songs I've been listening to almost to death over the last month or so. I'm about done with them, but perhaps you might have some use for their hard-driving swagger-heavy sounds.
1. The Bloody Beetroots- Dimmakmmunication
2. The Hood Internet- Light Falsetto Music
3. Kanye West- Power
4. Maximum Balloon- Tiger
5. Animal Collective- Fireworks
G/O Media may get a commission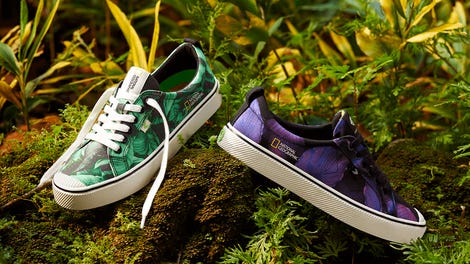 New New New
Cariuma + National Geographic
Your turn now. What's been on heavy rotation on your workout playlist? It doesn't have to be cool or new; it just has to get you moving. For the sake of continuity, let's each try to suggest five tracks in this first Jezebel Workout Jamz Swap.
Go!
Image via Shutterstock