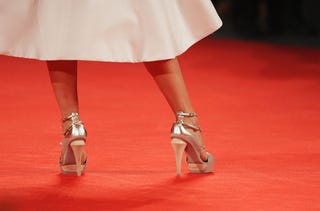 The buzz making the papers in the UK? A union leader is suggesting that women should not be forced to wear high heels. Cue the uproar!
According to the Telegraph, Lorraine Jones, of the Society of Chiropodists and Podiatrists, says female shopworkers, airline cabin crew and other employees must wear high heels as part of a dress code — but male employees do not. Jones, a practicing podiatrist says: ''This is not a trivial problem. Two million working days are lost every year through lower limb and foot-related problems. We are not trying to ban high heels - they are good for glamming up but they are not good for the workplace. Women should have a choice of wearing healthier, more comfortable shoes.''
Sounds great, right? Not according to Loraine Monk of the University and College Union, who opposed the move, arguing: "This well-meant motion will see the union movement portrayed in the media as the killjoy fashion police… Let's stop telling women what to do."
The Guardian reports that a Tory Member of Parliament, Nadine Dorries, wrote on her blog:
"I'm 5ft 3in and need every inch of my Louboutin heels to look my male colleagues in the eye. If high heels were banned in Westminster, no one would be able to find me."
Mary Turner from the British Trade Union has fired back: "If you need to wear high heels to stand up to men than I feel very sorry for you."
In any case, this case is not so much about banning high heels as it is about making sure employees aren't forced to endure a health hazard. BBC News notes that "where they are found to be hazardous, they should be replaced with sensible and comfortable shoes." The problem, of course, is that for some women — especially those working in retail — high heels are part of a "look" to represent a brand. Some women do feel more powerful, more confident in heels. But can you be plucky and self-assured when you've got a twisted ankle, bunions and tendonitis?
Unions Take 'Stand' On Stilettos [BBC News]
Women Should Not Have To Wear High Heels At Work, Says TUC [Guardian]
High Heels 'Should Be Banned At Work' [Telegraph]